Established by Chief Engineer and producer Danny Bernini after leaving The Hit Factory NYC in 1995, SpiritHouse Productions recently moved into a newly built studio space in a 120-year-old carriage house in Western Massachusetts. The new SpiritHouse is a full-service entertainment company, encompassing Artist Development & Management and a world-class residential facility owned and operated by Bernini and partner Paul McNamara.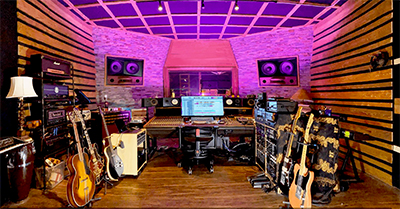 SpiritHouse pairs its Augspurger monitors with a classic MCI 536 mixing console that was used on some classic rock recordings – AC/DC's Back In Black and records from The Rolling Stones, Bob Marley, The Eagles, Elton John, James Brown, U2, J Geils and Aerosmith among them. The console runs with a two-inch 24-track MTR 90 tape deck and the latest Pro Tools rig, featuring high-end AD converters.
The first album recorded at the studios is the new Even the Devil Believes album by Christian rock group Stryper. 'We did this new record over a few weeks in February 2020, just prior to the pandemic hitting,' Bernini explains. 'We do a hybrid between old-school analogue and modern digital technology, starting with tracking on the vintage MCI with lots of great mics and outboard, to file sharing across the country for additional overdubs, and ultimately mixing remotely due to Covid.
'We have a beautiful large performance room with a warm spacious sound, with vintage recording gear from Neve, Telefunken, API, Avalon, Urie, MCI and more. We also have a nice collection of keyboards, including several funky older Hammond organs, a Yamaha C3 grand piano, a 1956 blond Wurlitzer, Mellotron, Fender Rhodes, and a vintage Polymoog from the 1980s.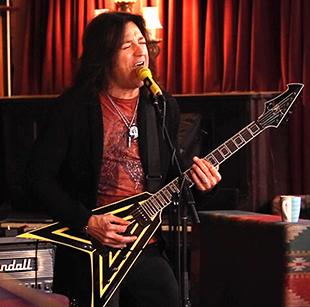 'For this album, we used a bunch of Telefunken mics for the recording of the band's distinctive drum sound,' he continues. 'We had an M82 dynamic on kick, M80s top and bottom on the snare, M81 on rack tom, M82 on floor tom, ELA M 260 tube mic on hi-hat, and FET M60s on overheads.'
Bernini completed the new album under the most stringent of Covid-19 precautions: 'We had the band come back in August to film the entire record performed live in the studio to promote the album release,' he says. 'The band members are from all over the country, so we had everyone involved tested and quarantined together during rehearsals. Once we were all together, including the film team, we stayed at the studio and didn't go out for anything. Everyone slept, ate and worked on site for the duration of the sessions. This is a PPV performance for their fans along with a virtual meet-and-greet in November.'
Prior to SpiritHouse, Bernini's base for producing and engineering was the famed Longview Farm Recording Studios in North Brookfield, Massachusetts, where he began as an engineering intern in 1987 and then worked throughout the 1990s and early 2000s. He now works full time out of the new SpiritHouse, as well as touring the world mixing FOH sound for Ben Harper.
Bernini's diverse discography includes artists ranging from Acoustic Junction, Martin Sexton, Ryan Montbleau, NRBQ, Chris Collingwood, Tall Heights, and Spookie Daly Pride to Stryper, Michael Sweet, Blondie, and Notorious B.I.G. He also does postproduction mixing for broadcast and 5.1 surround DVD, including shows for Ben Harper, Stryper, James Blunt and The Fray.