Hit hard by the global Covid-19 pandemic, all concert and cultural events in Norway have either been postponed or cancelled leaving most artists who had performances booked wait for live shows to resume. Folk/rock band Violet Road sought an alternative, however, taking their music to 18 coastal communities on a 60-year-old ship with an Alcons Audio pro-ribbon system for sound reinforcement.
Violet Road had more than 60 shows lined up for the 2020 festival season, all of which were cancelled. When the band put their heads together, bassist Hogne Rundberg came up with the idea of buying a boat. 'We thought it would be the perfect tour combination – a stage, food, lodging and transport all rolled into one,' he explains.
The band purchased the Vulkana, a 22m (73ft) former fishing vessel, built in 1957 and later rebuilt as a spa and tourist craft. With a loading capacity of 80 tons and space for a crew of five, plus 12 passengers, it had every facility the band needed – including a full kitchen and lounge with a fireplace below decks, a sauna (heated by a wood-fired oven), a hot tub on the aft deck and a diving board.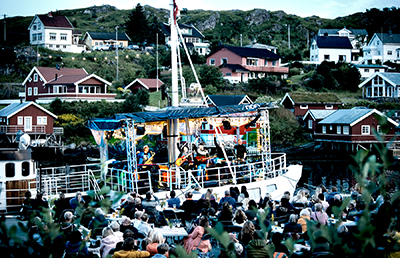 The foredeck was fitted out as a sound stage, allowing the band to moor the vessel and perform to audiences of up to 200 on quaysides and pierheads, close enough to enjoy the performance but far enough for Covid safety. In this way, touring and performing on the ship was also an effective way of ensuring the band and crew could safely isolate themselves.
'We needed a compact, lightweight PA that didn't take up much space onboard and was easy to handle. At the same time we did not want to compromise on the sound quality in any way for the open-air audiences,' says Hogne. 'On our 2019 tour we had a really great experience with the Alcons LR14 pro-ribbon ultra-compact line-array system, where we played at venues including small community centres, churches, cathedrals, industrial production halls, even in old mines. Whatever space we played, the LR14 system surprised us with its amazing sound quality.'
The sound engineer from that tour, Arne Grimstad, was asked to return and chose a simple Alcons system comprising six LR14 and BF181 compact subwoofers, powered and controlled by a Sentinel10 amplified loudspeaker controller. With everything in place, the band set sail on a unique coastal summer tour of northern Norway, starting in Furuflaten and ending, one month later, in Lysnes.
'The LR14 system works in small and large settings – it is one box that covers all spaces,' Grimstad says. 'On the 2019 tour, this set-up gave exceptional cover for a sitting audience of 750 people and, on this one, the response from people after every show was that the system sounded incredible, even enough every venue was outdoors and improvised. One audience member even said 'the rest of the world simply needs to realise that Alcons Audio is better than anything else. The system is easy and quick to set up and, when you get this kind of feedback, it's even more fun to go out and work.'
It wasn't just audiences who enjoyed the fact that Grimstad, Violet Road and Alcons were able to bring some much-needed cheer to 18 Norwegian communities at a very difficult time. As lead singer and guitarist Kjetil Holmstad-Solberg says, 'I have never been on a more comfortable tour. Your bed was close and you did not have the stress of catching planes, trains or other transport. This really gave touring a more pleasant flavour.'
More: www.alconsaudio.com