One of Finland's leading recording facilities has replaced the mixing desk in its main control room with a large Neve Genesys Black G80 console.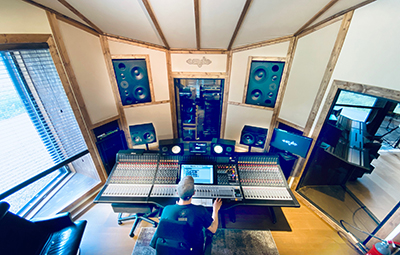 Located in the rural surroundings of Sipoo, 30 minutes' drive from the centre of Helsinki, E-Studio attracts large recording sessions and therefore needed a console with plenty of inputs and a high channel count. According to Jyri Riikonen, Senior Sound Engineer and Studio Manager at E-Studio, the Genesys Black G80 fits the bill with its 80 inputs at mixdown and 40 input channels, each with 1073 preamps for recording very large sessions.
'Working on a large format analogue console is a must for big recording sessions, and when you combine that with the really amazing sounding of 40 channels of 1073 preamps and 1084 EQs, you have a great place to start any session,' Riikonen says. 'We also like having the ability to save individual analogue channel strips and recall them in an instant. That makes a big difference to how fast we can set up a session.'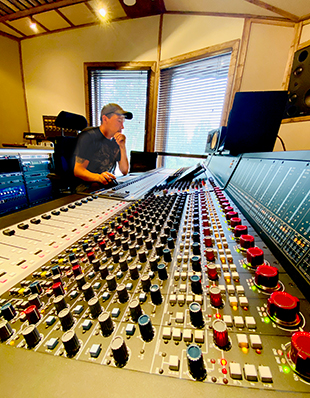 Since installing the Genesys Black, E-Studio has hosted a number of recording sessions and Riikonen says clients have been delighted by the console's distinctive Neve sound. Hands-on DAW control and connectivity is another benefit, he says. 'Being able to save and automate the analogue channel strip into the DAW via the GenesysControl plug-in is just amazing. The DAW fader section and transport helps a lot, too – and the plug-in integration is really good.'
Opened in 2004, E-Studio was rebuilt in 2018 when it relocated from Helsinki to Sipoo. It has four control rooms and a large 120m2 live room (with three isolation booths), which is easily large enough to accommodate an orchestra. Residential accommodation is available and clients also have access to a separate sauna house that can be used for additional accommodation and as a workspace.
Designed by acoustician Kimpi Huisma, E-Studio describes its live room as another instrument because reverberation can be adjusted to suit the demands of the project. The interior, designed by architect Oona Masso, has a modern, quiet ambience with plenty of natural light.
'We handle a wide range of projects, from recording, mixing and mastering through to creating audio for computer games, commercials and film,' Riikonen says. 'Our facilities suit large and small projects and our clients range for individual artists to big record labels, and from indie movies and games to AAA games studios.'
The faciliy is currently being used to record an album for the Von Hertzen Brothers, with Riikonen at the Genesys Black controls. Other recent clients have included Michael Monroe, J.Karjalainen, UMO, Rovio Entertainment, Amorphis, KXP, Verneri Pohjola and Lenny Pickett.
More: www.ams-neve.com