The newly built Terra Emmen school in Florence, Italy, offers a varied and practical curriculum – including cooking, 'green subjects', and sports, alongside more traditional subjects – and, as such, required an audio system equally versatile and discrete. After assessing available options, the school's administrators called in MM Concept Audio Solutions to create an audio infrastructure suited to Terra Emmen's sustainable, forward-thinking ethos.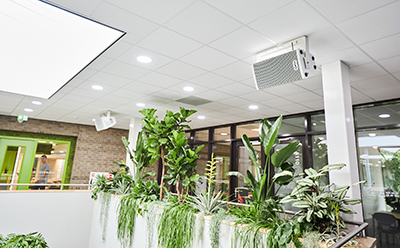 'The brief from Terra Emmen was a simple one,' says MM Concept Audio Solutions CEO, Mark Molema. 'At that point, they weren't being supported by an A/V system advisor, which was a huge benefit for us.
'As far as they were concerned, the functionality and ease-of-use of the system was key, which is a welcome change from the more in-depth or challenging plans we would usually get from typical A/V system advisors.
'The fact that the school trusted our knowledge really allowed us to think outside of the box and come up with a unique way of giving them the functionality they required.'
Molema chose MAG Audio NX10-8 loudspeakers as best suited to the job of covering the various zones around the building; a system that was to be driven by Powersoft's half-rack Mezzo 602 A and Mezzo 322 A amplifier platforms.
Since their introduction in 2019, the Mezzo amplifier platforms have become MM Concept Solutions' go-to for all fixed installation projects. 'If we need larger amounts of system headroom, we go for the Quattrocanali or Ottocanali platforms, but generally the Mezzo is the one we choose,' Molema says. 'It gives us a unique power-to-size advantage, and its class-leading DSP features and Dante integration are always useful.'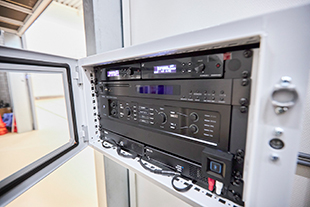 Molema also cited Mezzo's scalability and low-power consumption as major strengths in projects such as Terra Emmen: 'The fixed installation market is getting more and more demanding,' he says. 'Clients will often prefer the most compact, cost-efficient solutions available; and Mezzo has a fantastic set of features to accommodate these factors and much more besides.'
The amplifier platforms were incorporated in the control section of the local area network, which allowed them to be remotely operated using the Neets room control system. 'For these types of installations, the ease-of-use has to be exceptionally high in every environment,' Molema explains. 'Although the school staff have had training in the basic operation of the system, it was important to ensure that they wouldn't be overawed by it or tempted to try and access any of its critical components. Luckily, the Mezzo platform doesn't have any functions or buttons on its front panel, so this will never be an issue at Terra Emmen.'
Since the completion of the installation, Molema and his team have already received high praise from the end user. 'The system has been great for the school, particularly as it's so user-friendly. The sonic quality has also been excellent, and the speech intelligibility is fantastic throughout the venue; which is key for announcements, meetings, assemblies, and many more applications besides. It sounds as if they are really enjoying learning how to make the most of it.'
More: www.powersoft.com