Prompted by lockdown recordins when available acoustic environments have proved less than ideal, Voice Ark is a voice recording solution specifically aimed at ADR and VO work, that can be easily transported and deployed.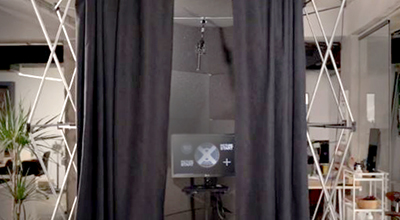 With impromtu set-ups of ten producting results that sound out of context and are difficult to blend with production sound, Voice Ark is a creative – and financial win – that enables high-quality recording while retaining consistent workflows from a client's perspective.
Freelance ADR recordist and mixer Milos Stojanovic created Voice Ark after months of research and planning, supported by previous experiences of mobile ADR work. 'As we all know, in March 2020 our world changed dramatically due to Covid-19,' he says. 'Productions more or less stopped shooting completely and postproduction work shifted largely to remote working and for ADR this proved to be a particular challenge. Voice Ark allows for either on-site operation where it's safe to do so, in a production office, a hotel room, or a soundstage, or a remote configuration where it is controlled from my London studio. In both scenarios, anyone attending in person or virtually is able to monitor the session with both picture and sound and be presented with select take combinations on the fly, just like in a traditional studio session.'
The system is based on a Mac book Pro running Pro Tools Ultimate 2020, and records up to four microphones via Focusrite interfaces in resolutions up to 192kHz. For a standard ADR session, it records in boom and clip configuration, with a range of microphones on offer, depending on production's requirements. Voice Ark also offers a remote configuration and successfully bridges the gap in sound quality between the studio and ordinary rooms/offices.
More: www.voiceark.com