South African community radio station Bosveld Stereo, which broadcasts in Afrikaans across the North West Province, is the first station in the country to take Calrec's IP-based Type R for Radio. The installation was overseen by Calrec's recently appointed local partner, Wild & Marr.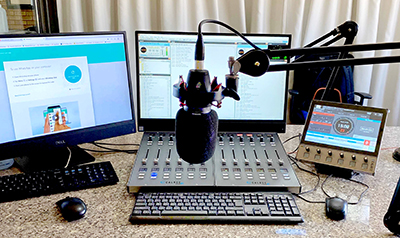 Wild & Marr used Type R's modular approach to create the system for Bosveld Stereo's needs – a Type R for Radio core plus two hardware fader panels and one large soft panel. The system can be accessed remotely, which is crucial in today's Covid-19 environment. Using AoIP (Dante), the audio is transported to the transmitter.
'Our existing studio mixers were reaching end-of-life and we wanted to take the opportunity to upgrade and move into an IP future – Type R was the answer,' explains Bosveld Stereo Chairperson, Graat Pelser. 'We have found it very easy to adapt to and the configurability is a great help. We use it on a daily basis, and we know that it's easily expandable if required. We are grateful to Wild & Marr for their help through this process.'
Launched in 2008, Bosveld Stereo shares local talent withits listeners. Everyone who currently works at Bosveld Stereo lives within the broadcasting footprint of the station and everyone also takes an active part in one or more of the community projects in which the station is involved.
'Due to the Covid-19 pandemic, myself and Broadcast Systems Engineer Dwaine Schreuder pre-commissioned Bosveld Stereo's Type-R system off-site in a safe environment with all precautions taken,' says Wild & Marr Technical Director, Anton van Wyk. 'By the time the unit was installed at Bosveld Stereo it was literally just plug and play. We believe that Type R for Radio has a very bright future across the African continent.'
'We're very pleased to see the first sale of our Type R for Radio technology in South Africa,' says Calrec International Sales Manager, Graham Murray. 'We know that the overall broadcast market in the country is rapidly moving to IP. Type R for Radio has been designed to allow radio stations of all sizes to capitalise on IP's flexibility.'