Since pledging to donate a percentage of proceeds from the sale of its touring amplifiers to the Crew Nation charitable fund, Powersoft's three-month campaign has generated €48,437, with the company promising to continue the incentive until the end of 2020.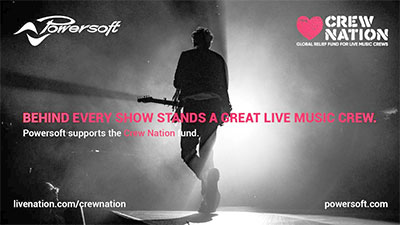 Nurit Siegel Smith, executive director of the Music Forward Foundation – the charitable 501c3 organisation that administers and powers the fund – praised the initiative: 'We are amazed by the incredible pledge Powersoft made toward the Crew Nation fund and for the crewmembers who are the backbone of the live music industry,' she said.
'Live music inspires millions around the world, but the concerts we all enjoy wouldn't be possible without the countless crewmembers working behind the scenes. Their pledged donation will be instrumental in ensuring our crewmembers are taken care of during this intermission so they will be ready to work and enjoy the show with us.'
The Crew Nation fund was originally kickstarted by Live Nation's US$5m donation, which was followed by the promoter committing to match the next US$5m given by artists, fans, and employees. To date, Coldplay, Miley Cyrus, Metallica and John Mayer are among those who have shown their support and donated.
Following this inspiring start, Powersoft's management has stated that the company is looking forward to continuing the relationship with such an important campaign. As well as continuing to donate a percentage of its touring amplifier sales until the end of the year, the company has involved its worldwide sales networks directly in order to give the initiative the highest possible prominence.
'We want to continue supporting crewmembers during this extended intermission,' says Powersoft Brand, Communication & Trade Marketing Manager, Francesco Fanicchi. 'We have many friends who have lost work this year due to the impact of the pandemic and we want to be at the forefront in supporting them. As an audio company that was born with touring products, we have a responsibly towards our community.'