Taking true stories from museum collections, Vaudeville Sound is aiming to help safeguard the UK's history through a series of podcasts titled Amazing War Stories with Bruce Crompton that are presented in binaural sound.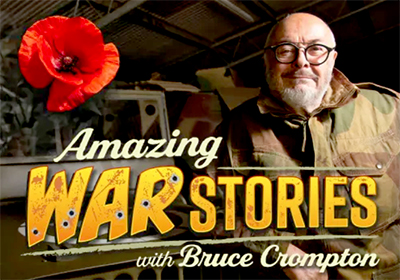 As the shows were being compiled during lockdown, the voice recording and mix sessions were run remotely. Live output of the mix was shared with the director so the team could run through mix notes and make changes on the fly. Avid Pro Tools was used to edit and mix all shows with tools from Nugen Audio, Noise Makers, Zynaptic and Blue Ripple Sound in support.
With detail of sound design and field recordings at film level, accurate use of sound was crucial not only to drive the story but to ensure accurate representation of the various military equipment being discussed.
'We feel podcast as a platform really lends itself to 3D immersive sound with many listeners consuming with headphones,' says Group Head of Sound, Luke Hatfield. 'The binaural aspect really enhances the effect of a scene where we have a distant MG [Mauser general-purpose machine gun that was in widespread use by German forces through WWII] suddenly jump to the 10 o'clock position and bullet impacts flying up all around us.'
Designed to be listened to on headphones, binaural encoding immerses the listener in soldiers' experiences, battles and locations. 'The sounds needed to be very focused and clear in the mix to tell the story to avoid single, literal sounds,' Hatfield adds. 'In the trailer, an MG42 is mentioned but instead of just hearing an MG42 the listener hears it close up, as if the film camera is with the Germans firing on the Allied forces. The audio then cuts to the opposite perspective of the Allied troops to hear a distant MG42 and all the dirt being kicked up by the bullet impacts, ricochets etc. Many people haven't experienced 3D audio in this context before, so it's exciting that these techniques are being used on the podcast platform as it really works in enhancing the listening experience.'