Headquartered the Cartagena, the Regional Assembly of Murcia is the Spanish regions autonomous Parliament. With pandemic guidelines imposed by the country's health authorities, the Assembly adapted the Patio de los Ayuntamientos building for plenary sessions and important debates.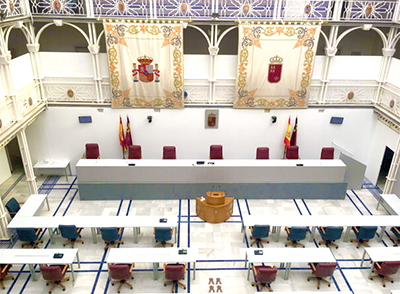 Working with the Assembly's technical department, Cartagena-based system integrator Castellini Audiovisuales and Shure Distribution partner EarPro devised a solution that offered wireless operation with a long battery life, voting and interpretation capabilities, and encrypted audio with flexibility to cover a variety of situations using a Shure Microflex Complete Wireless (MXCW) system.
With a total installation of 30 units, battery use was managed for by the SB930 lithium-ion rechargeable battery, powering conference units and maintaining performance. The system also includes an AES-128 encrypted audio signal that helps guarantee security and audio privacy, along with a voting function with different configurations allowing external mobile devices to be connected into the unit. Another feature of MXCW is its capacity to work with up to eight channels of simultaneous interpretation – a must-have for the Assembly.
A highly intuitive system, the MXCW640 Wireless Conference Unit can be configured into 'chairman', 'delegate', 'dual delegate' and 'interpreter' roles, and is equipped with a 4.3-inch colour touchscreen. Battery status can be quickly checked via the integrated battery level indicator, with the batteries powering up each unit for more than 11 hours at a time without recharging. There are also different gooseneck microphone options available with three-colour LED, in different lengths and with interchangeable cartridges.
Balanced analogue audio input and output XLR connectors are included within the MXCWAPT access point, along with 10 inputs/10 outputs over a Dante audio network, completely configurable due to their internal matrix and connection by a single Ethernet cable that processes the control, audio and power.
With the MXCW system now in place, the institution can now provide the opportunity for all members of the Assembly to continue their activities more safely and attend the plenary sessions in person. 'The MXCW system is the result of the ongoing evolution in radio transmission of audio signals by Shure, one of the world's leading companies in wireless microphones,' says EarPro Install Key Account Manager, José Moreno. 'After positioning itself over the last few years as a standard in broadcast environments and live events, the MXCW delegate system is also consolidating its position as one of the leading wireless systems for debates and conferences.'