Since opening in 1880, London's Guildhall School of Music & Drama has become one of the world's most prestigious conservatoires. Key to the school's musical curricula is its annual award for The Gold Medal – a performance competition that began in 1915 and had taken place uninterrupted through 2019. However, the global pandemic has meant that the annual May performance has been put on hold as teaching moved online during the summer term.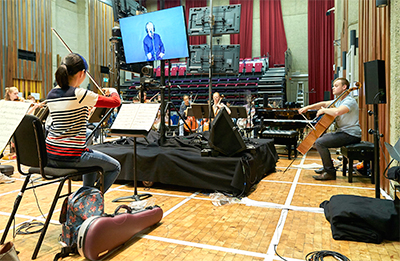 'Because of Covid we needed to be swift in our response to ensure things like The Gold Medal could occur and, importantly, that in-person classes could still take place with full scale participation,' says Head of Recording & Audio Visual, Julian Hepple. 'To make that happen, we quickly turned to Dante and Dante Domain Manager, and, in September, as we returned to in-person teaching, we were able to hold The Gold Medal and broadcast the performance online.'
Dante enabled the Guildhall to solve Covid-related challenges both for live performance and virtual learning.
To adhere to social distancing requirements, The Gold Medal performances were employed four separate rooms with he largest space populated by string instruments and piano. Woodwind and brass were split up each into their own rooms, with 3m of space allocated between performers, and the conductor was located in a fourth room. The challenge was to enable full collaboration between the multiple rooms.
'We had 90 musicians in total across the different rooms and building,' Hepple says. 'We needed to manage a number of inputs and outputs across the space and have them be as latency free as possible. They needed to be able to perform synchronously with one another.'
To do this, 40 Neumann, Rupert Neve Designs, Schoeps, and DBA directional microphones were placed across the space to capture instrument audio. These feeds were brought into SSL, Yamaha and Neutrik preamplifiers and translated into Dante-native channels. These Dante feeds then head to Cisco and Dell switch infrastructure across two buildings, and then routed to a Solid State Logic System T mixer that allows for broadcast specific processing. The audio feeds are then delivered out to two locations – to the broadcast mix for live playout via a live production system, and to the other performers via headphones.
'With Dante, we were able to deliver the correct mix to the different rooms with an imperceptible level of latency,' Hepple says. 'Our conductor went into rehearsals on day one, and within 20 bars he said he was ready to go. This is someone who has decades of experience in the classical performance space, and it was an immediate acceptance of the new set-up.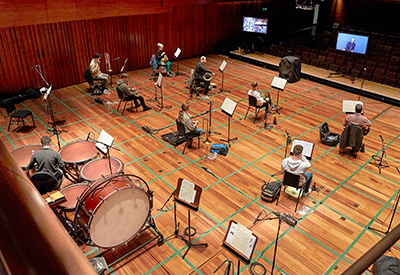 'There was a time when we were worried this could be cancelled,' Hepple continues. 'However, with Dante we were able to keep it alive – and that's a big deal right now because our rooms, which are normally alive and vibrant, had been silent for six months. Bringing the music back was important for everyone.'
The set-up will next be used to present an the Guildhall Symphony Orchestra concert conducted by Jessica Cottis in November.
Dante has also ensured in-person, performance-focused instruction and coursework continues. By using a similar Dante workflow across its multiple performance spaces, the School is able to route audio into video conferencing applications that is of high enough quality to allow collaboration.
The Guildhall School fully embraces the many different technologies and tools used in the crafting of an audio performance and leverages Dante's AoIP benefits to feed into an Solid State Logic Origin analogue console via SSL's A32 Dante enabled stagebox, which forms part of a fully analogue recording studio. The studio is primarily used for jazz ensembles, classical chamber and voiceover radio workshops. However, thanks to the benefits of Dante, the analogue recording studio can in fact be leveraged for use with any of Guildhall's activities, be they performance, broadcast or teaching.
'For example, we can put three pianists in one large room – or in three separate rooms – and have their audio output via video conferencing to the instructor of the class,' says DataSound Consulting Director Liam Halpin, representing the firm that installed the system. 'Those feeds can be heard by anyone on the platform, and they are all high-quality audio. That's very important to allow an instructor to teach the class.'
Halpin says that, with the potential for around 70 Dante devices to be in use across Guildhall's multiple concert halls, recital rooms and classrooms, the need for both robust management and security was paramount. The solution was Dante Domain Manager network management software, which enables user authentication, role-based security, and audit capabilities for Dante networks while allowing expansion of Dante systems over any network infrastructure. Dante Domain Manager organises a network into zones called 'domains' that each have individual access requirements, making it clear and easy to know who can access any area of the system. All activity is logged, tagged, and date-stamped so problems can be quickly identified and solved.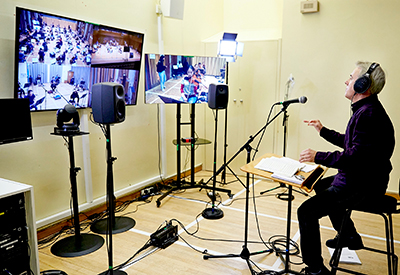 Dante Domain Manager also supports use across multiple subnets on a single network – allowingthe Guildhall to keep its robust network infrastructure intact.
'With Dante Domain Manager, we can give access to students in very specific areas, and without giving them access the rest of the network,' Halpin says. 'We use ten domains to achieve the separation required, but still have a lot of shared audio channels to provide feeds of room mics and other inputs to the SSL System T. Support from Audinate EMEA throughout the project has been incredible, as always.'
Across the school's wider campus, 35 rooms are Dante enabled by way of 70 devices, includeing Neutrik NA2-IO-DPro and DLine microphones (preamps and IO), Yamaha (CL, QL &) TF-Rack digital mixers, SSL and Yamaha I/O, multiple computers using Dante Virtual Soundcards and an SSL System T broadcast platform.
'We really are performing together while apart,' Hepple says. 'Because of Dante, our entire campus is now one big studio. We have 70 more live performances planned in the coming months, available to watch online for free. Everything from live music to dramatic performances will be enabled by this Dante workflow. The faculty is emotional seeing performances return. The students are excited about this technology and the creativity it can enable. And the families and friends and fans of the performers get to see performances again. It's beautiful what we've been able to create with Dante.'