The latest movie theatre in South Korea cinema to install an Alcons Audio loudspeaker system is in the city of Paju – CGV Paju Yadang is opened by CJ CGV, the country's largest multiplex cinema chain and the fifth largest in the world and opened at the end of July 2020.
The cinema has five auditoria, all with recliner chairs and Barco laser projectors. The main auditorium features an Alcons pro-ribbon system, specified and supplied by Seoul specialist cinema company Yuyukorea Co Ltd and installed by the company's head engineer Mr Kang.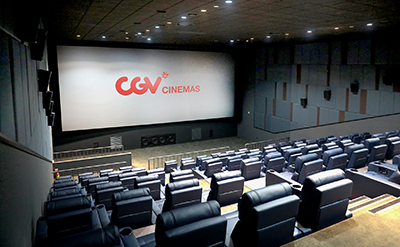 'We helped the customer with A/B demonstrations of different systems,' he says. 'They were very satisfied with the Alcons Audio demo, saying "We love the HF from the pro-ribbon tweeter and could definitely hear a cleaner sound than from other systems". They made an instant decision after the demo to choose the Alcons system.'
The system comprises three CR4 (3x RBN401 4-inch HF, 2x 6.5-inch MF, 2x 15-inch LF) large-format screen systems for the main left, centre, right channels, with two CB362 (2x 18-inch) high-output full-size subwoofer systems and 18 CRS8 (1x RBN401 4-inch HF, 1x 8-inch LF) medium-format reference surround. The system is powered and controlled by two Sentinel3 and two Sentinel10 amplified loudspeaker controllers.
'It is very rare in South Korea that an independent movie theatre chain chooses high-end audio like an Alcons pro-ribbon system, but the customer is very happy,' says Kang. 'It is not only the quality they feel and hear from the system, but also the response of movie-goers.'
'Staff from other cinema chains in South Korea have visited CGV Paju Yadang to hear the Alcons pro-ribbon system, and the client is actively considering using Alcons Audio again for his next project,' he adds. 'They have already said they should have equipped the other rooms at CGV Paju Yadang with Alcons as well.'