Belvedere and Panoramic are the first two of three hotels being opened by the Romanian Phoenicia Hotels Group in the popular coastal resort of Olimp/Mangalia. Operating under the Phoenicia Blue View brand, the new development will flank the Amfiteatru Hotel when it opens next year. All are have being equipped with Martin Audio's popular Adorn loudspeaker series, supplied by, Paradigma Teknik.
Although located in a traditionally a popular tourist destination, the hotels had been closed for more than 20 years and had become derelict – until the Phoenicia Group purchased and rebuilt the original structures, investing €35m (a figure that is expected to rise to €50m by the end of 2021).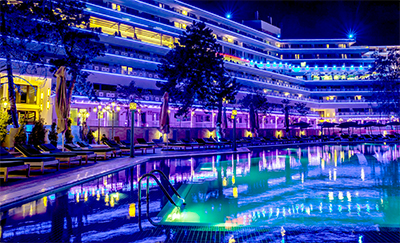 Paradigma has installed more than 50 transformer-based Adorn A55T loudspeakers since its launch early last year and, along with the A40T, and they have proven perfect for outside terraced areas in this latest project. They are finished in white and weatherised using Martin Audio's AIPKit weatherised cover – which upgrades these speakers to IP44 rating.
The ultra-compact series fits a wide range of applications, from retail outlets, bars and restaurants to corporate offices. The A55T is a two-way 100V line passive speaker with a 5.25in driver, and the A40T a 4in version in a similarly profiled housing.
Explaining the layout, Paradigma Project Designer, Marius Craiu said that all three hotels were designed to create an overall amphitheatre, which will be completed with the arrival of the Amfiteatru Hotel. While this is being built over six levels, with the two on either side having three levels only. 'When the complex was originally built, it was considered an architectural masterpiece,' he says.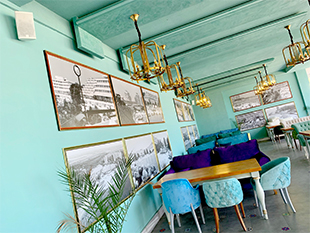 'We opted for Adorn partly because they offer great value for money, but also because they are discreet,' he said. They populate all the obvious outside areas, wall-mounted using the dedicated bracket, with the A55T designated for the beach bar areas.
The system largely reproduces background music, but with plug-in points supplied around the venue it is sufficiently flexible to reproduce music derived from DJ or live musicians.
Marius highlights the growing popularity of Adorn: 'We consider it represents extremely good value for money,' he says. 'And when combined with subs it provides a great extended full range sound.'
More: https://martin-audio.com