A Lawo 24-fader mc²36 All-in-One console and two compact Lawo stageboxes are at the heart the new 4K OB truck that Lawo partner ARET Video & Audio Engineering has designed and built for a Middle East customer. The Gulf state client manages a culture-based television channel in addition to various tourist, cultural and media activities, and plans to expand into the filming of sporting events.
The new OB van features a layout that maximises internal space while allowing interoperability between all three operational areas – the main Production Area, with monitor wall, slow motion equipment and character generator stand, the Audio Room, with its custom acoustic insulation, and the Engineering and Camera Control Area with control of up to eight cameras via fibre-optic connection, plus two wireless cameras. Each of these areas, including the racks, has its own independent air conditioning system optimised for the area's tough weather conditions, ensuring operation under any climate conditions.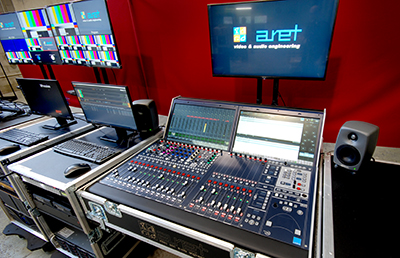 The OB's video workflow is complemented by an audio system with connectivity exceeding standard analogue and AES ports. A fibre Ravenna IP connection to two Lawo Compact I/O stageboxes ensures flexibility during remote productions and reduces the cabling infrastructure needed to send audio back to the truck. The van's mc²36 console interfaces directly with the video router via Madi, giving router operators direct access to all audio signals, plus the powerful audio signal processing toolbox offered by Lawo.
The Lawo mc²36 console is an 'all-in-one' mixing system, designed for maximum ease-of-use and unbelievable value-for-money, and optimized for fast-paced operation in demanding environments. Its compact size and built-in DSP and I/O make it the perfect choice for OB production, as well as stationary use for broadcast, theatre and live sound applications. Touch-screen controls provide immediate access to all functions during fast-paced production, and an integrated Remote Desktop function allows seamless integration of external PCs with third-party solutions into the console's user interface. Its integrated DSP Micro Core includes a 512×512 routing matrix with up to 192 channels of audio processing; onboard I/O includes 32 mic inputs with preamps, 32 Line outputs, eight AES3 inputs and eight AES3 outputs, as well as GPIO, SFP Madi port, and 3 Ravenna/AES67/ST2110-30 ports.
Each Lawo Compact I/O stagebox provides an additional 32 mic/line inputs, 32 line outputs, eight AES3 inputs, eight AES3 outputs, eight GPIO, a Ravenna port, and a Madi port, making the new OB van ready for any event it is called upon to cover.
'We are very proud of the result,' says ARET VP, Umberto Asti. 'This project is one of the first, if not the very first, full-12G UHD OB van in the Gulf area, and its workflow is proof that you can build a cost efficient 4K OB van using 12G-SDI without compromising either signal quality or workflow.'