Established in 1991, the Mandel Cultural Center is a community space in the Jaffa Region of Israel serving the local community, and – because of its prime location beside one of the largest stadia in Israel – in demand for private functions. Recently, the facility's audio system was upgraded by audio equipment importer TechTop Marketing and AVL systems installer the Charmer Group using LEA Professional solutions.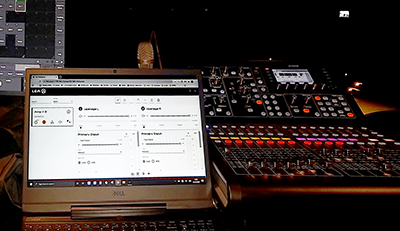 'Once Charmer Group recognised the team behind LEA Professional, they knew the technology and solutions provided would be nothing short of revolutionary,' says TechTop Marketing Director, Shimon Pick. 'LEA has a huge depth of pro audio experience behind them, and going into a significant local project like this, that level of expertise is incredibly reassuring to all parties involved.'
What began as a system upgrade became a complete new install with Charmer Group choosing four Connect Series amplifiers from LEA Professional, including three Network Connect CS704 amplifiers, and one Network Connect CS352. Designed for small- to-medium scale installations, these feature direct HiZ (70V or 100V) or LoZ selectable by channel and built-in Wi-Fi – with can be used with the venue's Wi-Fi or FAST Ethernet to connect to any local area network via Cat5 or Cat6 cable.
The Mandel Cultural Center is a 200-capacity multifunction space that is divided into one large room and one smaller space. The centre hosts music and art classes, live performances, lectures and various other community-led activities. The team at Charmer Group was committed to providing a flexible, high-performance audio system that could be enjoyed by all.
'I am very open-minded when it comes to new technologies,' explains Charmer Group co-founder, Babu Levy. 'We had initially looked at a different amplifier company for the project but when we were introduced to the LEA Professional products, including the Cloud control functionality, I knew we could better serve the venue and the community with their technology.'
LEA Professional amplifiers leverage the built-in Amazon Web Services (AWS) IoT Core. The cloud platform allows integrators to control and monitor critical operational data points that are integral to maintaining system health securely and remotely. Individual amplifiers or entire venues of amps can be accessed and controlled securely, from anywhere in the world without the need to VPN into a Local Area Network.
'For us at Charmer Group, we don't want a system that requires intense training and set up,' Levy says. 'From the first time we saw LEA's amps in action we knew this was a product we could easily implement into many of our projects. They're just easy to work with and you can tell these products were manufactured with integrators in mind.'
'Cloud technology has never been more integral to a functioning society then it is today and we look forward to collaborating on more projects in the region over the coming months,' adds David Budge, Founder of Blue5 Technology- LEA Professional's representative in EMEA.
While the Mandel Cultural Center has yet to re-open to due to coronavirus guidelines, the team is looking forward to welcoming the community back into the upgraded space when it is safe to do so.
More: www.leaprofessional.com