As well as being an artist and music producer, Xylo Aria is the founder of online learning platform Music Production for Women. Recently returned from the UK to her native Australia, she is presently working from her parents' home in Melbourne.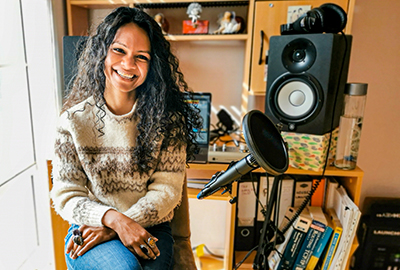 'I'm using my childhood study desk, on which I have squeezed my Macbook Pro, an Audient iD14 interface, two Yamaha HS7s, an SM57 mic on a Rode PS1 boom arm and a Launchpad X tucked away in the roll-out keyboard tray,' she explains.
Using lockdown time to grow her new MPW podcast – which she describes as 'a resource for all musicians' – she has released 14 episodes over the past seven months, with more on the way.
Uploaded fortnightly, the MPW podcast is based around a conversation with an industry professional. Each episode focuses on a different aspect of music production or gear, making it accessible to individuals interested in learning. Xylo has already covered topics such as DAW, headphones, EQ and reverb with a variety of audio professionals, including Grammy award-winning producer Catherine Marks; at Miloco Studios chief engineer Simon Todkill. and MPG award-winning engineers Dan Cox and Olga Fitzroy.
'I use my iD14 to record all my vocals, whether that's for my music or for my podcast. It is also how I listen back and do any mixing and editing,' she says. 'I love the simple and easy to use design. Also the high quality of the mic preamp is impressive for something in the iD14's price range.'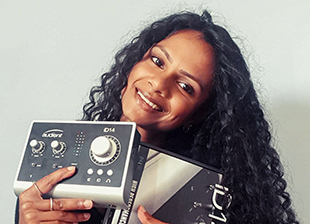 Lockdown has improved certain aspects of the recording process, as she no longer has to carry all her gear around London on public transport. 'I'm lucky that I'm recording a podcast where the guests are mostly audio professionals, so almost everyone has had the capability to record their own side of the interview to a high quality and send it to me for edit.'
It's not just logistics that have benefited from local restrictions: 'MPW, for the most part, has been thriving in this situation. I built it in a way that would make moving operations from the UK to Australia seamless, without knowing that it was also the perfect model to deal with times of pandemic.
'Everything from interest in our courses to subscribers on our YouTube channel has been on the up. This is great, but I'm aware that we're in such a blessed position at the moment and for me giving back has always been important. So, in this time we're focusing on providing some free production classes, sponsored course places and are also supporting Covid relief charities in areas of India with 15-20 per cent of our profits.
'I feel I've experienced all of the emotions during lockdown,' she says, having grappled with her creativity early on and latterly embraced a period of learning.
Over half a year on however, Xylo has found her feet, both with the MPW podcast and her music making. 'I feel I'm now very much in the swing of this new lifestyle and have thankfully found a way to make it work for me. So I have managed to come up with quite a few new song ideas which I think were more reflective of times pre-Covid rather than speaking a lot about the current situation. I am also working on finalising a collection of tracks which I'm really proud of for release.'
Looking to the future, Xylo hopes to find a dedicated studio space where she can spread out. But she's not planning too far ahead. 'My focus at the moment really is to enjoy the unique time I have to spend with the family and be grateful that we are healthy and able to support ourselves during this time. Of course, whenever I can I'll be sitting down at my little temporary set-up and spending a few hours making some pretty sounds.'
More: https://audient.com