Part of a larger rebranding exercise, the Open Control Architecture (OCA) Alliance has launched a new website promising easier access to information and new resources for A/V professionals adopting or using AES70.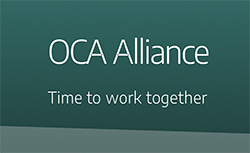 The not-for-profit trade association that exists to promote and support the AES70 standard for Open Control Architecture as a universal media networking system control standard for professional applications.
'Our mission is to simplify the lives of A/V professionals everywhere by encouraging and facilitating the adoption of AES70 as a universal, standards-based control and monitoring protocol,' says Bosch Communications' Platform Strategist, Ethan Wetzell – also Marketing Committee Chair for the OCA Alliance. 'It's a complex subject and knowledge levels vary enormously, so our first task was to distil the key messages so that the benefits are immediately clear to all. Then, we direct people to the information and resources they need according to their level of interest and type of application.
'Our aim was to ensure that the messaging is simple, clear and uncluttered so that people can find what they need within a few mouse clicks, whilst remaining the definitive resource for all things AES70.'
Manufacturers interesting in learning more about adopting AES70 into products, engineers and systems integrators looking to find a better way to control audio systems, and end-users requiring information on control solutions, will quickly be guided to the relevant area of the website providing information required – the site offers details about the standard itself, lists of AES70 products, software and links to code. There is also a comprehensive tutorials section, explaining how AES70 works and its real-world uses and benefits.
OCA Alliance membership has also been revised, and offers three tiers including a basic Community Membership tier aimed at specifiers and end-users. This is free to join and offers regular news and updates plus access to further downloads.
More: www.ocaalliance.com