Overlooking the waters of the Motława river, Gdańsk's latest high-end restaurant offers Asian-inspired food and drink, and some of the best music and atmosphere the bustling Polish city has to offer. No expense was spared creating Woosabi's, with great consideration being given to the venue's audio system and the way it can affect diners' experience.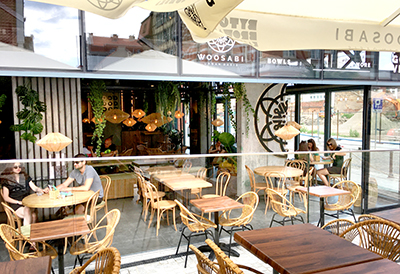 Although restaurant owners Jocki Koeffler and Diana Sadłowska had no prior relationship with local sound company, Offstage, they quickly identified the company as being the ideal partner for this particular installation. 'I showed them around Gdańsk so they could hear some of our other installations with their own ears,' Offstage's Przemysław Waszkiewicz. 'They were more than happy with what they heard, so we then went on to discuss specific needs.
'The customer was quite certain about what kind of system they wanted. One of the main goals was a strong low end, but they wanted to make sure that the bass wouldn't spill to the upper floors of the building.'
The look of cabinets was important as well: 'Instead of using black or white cabinets straight off the shelf, we decided to build them from the scratch and put the Woosabi logo on them, together with their slogan, Good Sound, Good Vibes, on the other side.'
The four main speakers installed in Woosabi comprise a forward-facing 10-inch coaxial driver and a backward-facing 6.5-inch driver, which creates a cardioid-like effect in the bass range. 'It was quite difficult to find a coaxial driver capable of producing good low end while also being able to cover 100° of the restaurant at any one time,' Waszkiewicz says. 'To avoid playing the music from just one direction, we placed ten smaller speaker cabinets [containing a 4-inch driver and a ribbon tweeter] around the restaurant, which were divided into three 100V lines with different time alignments. A fourth line (also Hi-Z) was dedicated to ceiling speakers in the restrooms.'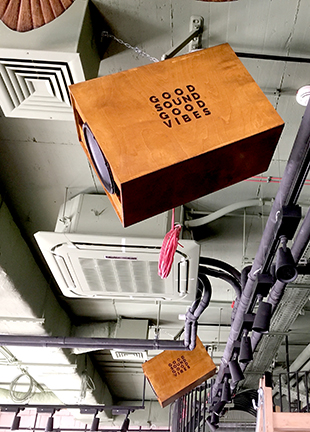 In a modern restaurant like Woosabi, where great demands are being asked of the audio system on a daily basis, only the finest amplification could be considered; with energy efficiency at the forefront of the decision-making process. With this in mind, Waszkiewicz decided early on in the process that Powersoft amplifier platforms would be ideal to drive the audio system.
'We used a Quattrocanali 1204 DSP + Dante to drive the four cardioid main speakers, he explains. 'Each speaker needs two channels to obtain cardioid behaviour, so we also used one of Powersoft's Mezzo 324A amplifier platforms for this purpose. Each one of the four channels of the Mezzo 324A was driving a 100V line containing a few smaller speakers with transformers. One of these lines was also used for ceiling speakers in toilets.'
Mezzo offers the same sound clarity, reliability, and overall build quality of any other Powersoft install amplifier; and does so in a half-rack unit form factor. It also comes with DSP, and in two power sizes with either two or four channels of output. All Mezzo models offer multiple analogue input options, and the two-channel versions feature line-level outputs.
'The advanced processing (including FIR filtering) offered by Powersoft DSP platforms helped me to get an amazing sound, Waszkiewicz says. 'It also allows me to create cardioid behaviour in the low-frequency range. I had to make the speaker cabinet and passive crossovers by myself, which was quite challenging, but I had less work with concerts at the time due to Covid-19, so I could give this aspect the care it required.'
Although the order was placed with Offstage prior to the Covid-19 lockdowns coming into force across Europe and the rest of the world, the restaurant's opening was substantially delayed. Although this gave Offstage plenty of time to design, build, and install the system, it also meant that the payment schedule had to be changed. Given that Waszkiewicz was familiar with both Powersoft amplifier platforms and ArmoníaPlus software, no additional tech support was needed during the installation.
With the customer already running two successful restaurants (in Innsbruck, Austria and Wrocław, Poland) with different sound equipment, Offstage's main task was to show a significant progression with the audio system in Gdańsk. 'Everyone at Offstage did a great job,' reports Woosabi co-owner Jocki Koeffler after hearing the installation for the first time. 'We're 101 per cent satisfied with the system and the next restaurant is already planned, of course with Offstage speakers and Powersoft amplification.'
More: www.powersoft.com