Symetrix has launched a redesigned, mobile-friendly website with a new community forum.
Along with a fresh homepage with updated branding and functionality, the new website carries dedicated pages for education, house of worship, teleconferencing and restaurant spaces including design templates, along with a searchable support page with extensive knowledge base, videos, and technical documentation. The new Symetrix Symposium community forum allows users to share inspiration and information on Symetrix products and projects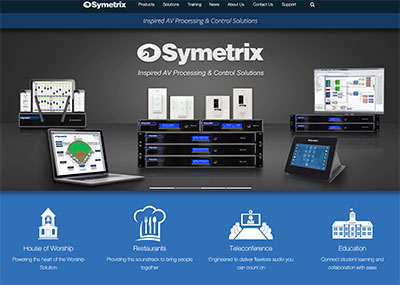 Bringing improved navigation, functionality and responsiveness on all screens and device types the site features redesigned vertical focus pages, images and testimonials from actual Symetrix projects, along with an online warranty claim form, and more robust support pages.
'It's important to us that the Symetrix universe of users can easily find what they need from our website, whether it's technical information, product documentation, or project inspiration, and be able to do it all from a phone or iPad if they're not in front of a computer,' explains Symetrix owner and CEO, Mark Graham. 'The new website provides that functionality, along with a cool new forum to give us a place to connect.'
The Symetrix Symposium forum is a user-generated platform where visitors can raise questions, provide answers, and build community in the A/V industry. Moderated by the Symetrix Technical Support Team, the forum is broken up into three main categories (audio processors and software, control solutions, and Intelligent Modules and Lua scripting) to provide information to A/V users of all levels of expertise.
As well as liaising with A/V professionals from around the globe, users can also download Intelligent Modules from other manufacturers or community members to enhance and increase the capabilities of Composer software. The forum interface is available in eight languages and provides 24/7 access to user-based technical information. The updated website is now live, and the Symposium forum can be accessed from the navigation bar, under support.