The Cheshire Fairgrounds drive-in music venue in Swanzey, New Hampshire, gave audio production company Paddle Out Productions an ideal opportunity to put its new Martin Audio WPM system through its paces under coronavirus constraints recently.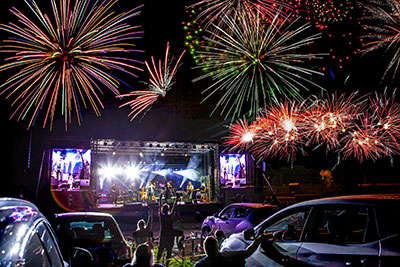 Part of a 16-week contract with ME Productions, the event is stages in a huge open field with up to 425 cars parked in every other space to enjoy performances from the likes of Guster and Grace Potter.
Organising such an event in a large and socially distanced space has had its challenges for the events team, and Ryan Burhans of Paddle Out Productions admits that in a space like Cheshire Fairground, sound quality and audience coverage were his top priorities. 'I was nervous with the size of the field that we weren't going to fill those Rock and Roll shoes that are expected now and again,' he explains. 'For example, we had a louder band, Blue Oyster Cult, who were due to perform and I was worried if we would hit the right SPL the guys were expecting. But we were cruising from the beginning.'
Paddle Out Productions equipped the venue with 12 Martin Audio WPM speakers per side, powered by two iKon amplifiers using a two-box resolution for the main PA. In addition to this, hangs of W8LM were used for the delay towers at around 250ft, of the 650ft-long field. 'All our concerts right now are long-throw because of the cars and spacing but we nailed it with two amps for the whole PA, 12 per side, and we were rockin',' says Burhans.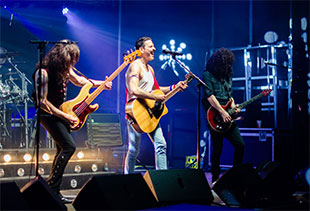 Having bought 16 WPM cabinets, Burhans was sufficiently impressed by their quality and the clarity, he committed to purchasing an extra eight. 'Because originally I only had eight per side, those extras have been awesome for this event. We almost didn't need the delay tower,' he says. 'Their sight lines are all clean, and they are super speech friendly because the clarity is so clean.'
Budget is a high priority for any company, and adding Covid-19 into the mix has made it all the more pertinent within the entertainment industry. Fortunately, the ability of the Wavefront Precision family to be deployed in different resolutions provided a cost-effective solution for Paddle Out Productions without compromising on quality.
'I would have liked to have gone to one box and that is where we were at with the 16 boxes, but it was nice to be able to know that I could add more speakers without buying more amps,' Burhans says. This flexibility was key to the company's initial purchase of WPM. 'It can be pulled apart into smaller systems. You can still work big without having a lot of big cases to move around.'
The company is hopeful for the future and believe they have impressed both the resident team at Cheshire Fairground and the artists with both the quality of sound and its impressive visual presence.
More: https://martin-audio.com