A growing church in Brunswick, Georgia, Pentecostals of Brunswick recently called in Allseasons Audio to take care of the installation of a new dBTechnologies audio system. Comprising 12 DVA T8 line array loudspeakers supported by a pair of DVA S30N subwoofers, the new system replaces a 15-year old design with poor coverage and sound quality with an LCR design says the dBTechnologies system.
'In one part of the church, you'd have 90dB and a few feet away it might be 98dB, so it was really harsh,' says Allseasons owner, Brian Bush.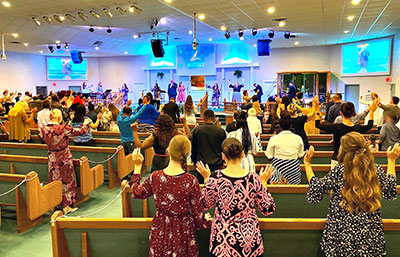 Before the installation, Bush had arranged a demonstration for the church: 'The dBTechnologies loudspeakers sold themselves,' he says.
Bush used dBTechnologies Composer software to design and optimise the system, making the installation and rigging straightforward: 'Installing a DVA system is very simple,' he confirms. 'just kind of plug-and-play.'
The church has a full band, praise singers and choir and Bush mixes most services on an Allen & Heath GLD 112 digital mixer. Bush mixes instruments left and right and routes voices to all three arrays. The band has in-ear monitors mixed on Allen & Heath ME-1 Personal Mixers.
Bush is pleased with the new system and says that Pentecostals of Brunswick plans to renovate its sanctuary to expand seating, add dBTechnologies floor monitors and install a second DVA system in the church's gymnasium.
'Everybody says the new system is a night-and-day change for us,' he says. 'Coverage is even, the sound is clear and it doesn't hurt your ears any more. And, I can't say enough about the DVA S30 subs; they are phenomenal.'
More: www.dbtechnologies.com