With museums forced to reinvent their ability to have visitors interact and engage with exhibits, London's the Design Museum – currently showing its Electronic: From Kraftwerk to the Chemical Brothers exhibition – has worked with Roland and sound artist, designer and electronic musician Yuri Suzuki to create 808303.studio.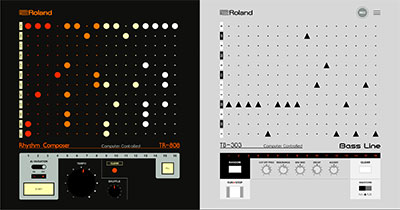 Presented as 'a fun and educational music creation platform and online-learning experience', 808303.studio features the sounds of the original Roland TR-808 Rhythm Composer and Roland TB-303 Bass Line bass, combined with a step sequencer interface in a professional-sounding online musical experience
The 808303.studio allows users to record their compositions and share them through social media or save them as a download. Acid House innovator A Guy Called Gerald will also be onboard to help visitors find their way around the platform and teach them how to program and play their own electronic dance music using 808303.studio.
The Electronic: From Kraftwerk to the Chemical Brothers exhibition focuses on innovation in electronic instruments and key moments in the history of electronic subculture. Roland's TR-808 Rhythm Composer drum machine and its TB-303 Bass Line – among the most influential inventions in electronic music – will be on display. Their unique sounds, along with their interfaces and unique perspectives, will allow visitors to take unexpected and innovative approaches to making music.
Yuri Suzuki's work explores the realms of sound through art and people, and can be found in several international museums. Additionally, he has worked with the likes of Google and will.i.am. to bring his collaborations to life.
Based in Kensington, London, the Design Museum covers product, industrial, graphic, fashion and architectural design. In 2018, the museum was awarded the European Museum of the Year Award.
More: https://808303.studio