Broadcaster Johnnie Walker has chosen the RødeCaster Pro podcast production studio to record his weekly BBC Radio 2 show Sounds of the 70s, from his home in Dorset.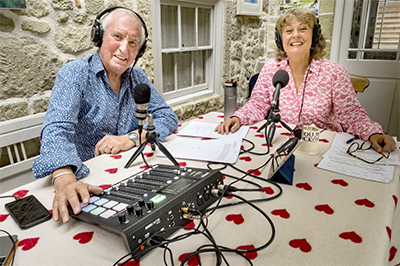 Hosted by Walker since 2009, Sounds of the 70s shares the 14m-plus weekly audience attracted to BBC Radio 2 via FM, DAB and the BBC Sounds app. Responding to a need to record the programme remotely in the wake of the Covid-19 restrictions, Walker sought a solution from retailer Solid State Sound (based in Warminster, Wiltshire) who recommended the RødeCaster Pro.
Walker co-presents with wife Tiggy from their home, creating an ad-hoc studio environment to record the programme. The RødeCaster Pro allows for up to four in-studio guests to record Aphex DSP-enhanced sound at the touch of a button, with remote guests – via bluetooth on mobile or VOIP applications over USB – able to be recorded, with mix-minus for echo cancellation. The RødeCaster Pro is designed to allow for professional recordings to be made in less than ideal environments, and with a minimum of technical knowledge, allowing presenters to focus on content, rather than equipment.
Following successful tests, shows recorded on the RødeCaster Pro were nationally broadcast on BBC Radio 2 on 6 September. 'It's an amazing piece of kit, that does everything you need so easily and efficiently,' Walker reports. 'I especially like the Aphex add-ons and the eight buttons for audio jingles, the onboard record facility to a MicroSD card and the ability to record some of my interviews via mobile phone. Transfer to my Macbook for uploading works seamlessly and using music from my laptop into the RødeCaster Pro works so well.
'It's a major upgrade in terms of its ease-of-use and the superb audio quality of its recordings compared with my previous mixer. I would absolutely recommend the RødeCaster Pro to anyone making podcasts or who broadcast radio shows.'