Opening its doors to the music community of Indianapolis this summer – in defiance of the challenges laid down by the Covid-19 pandemic – Round Table Recording Co (RTRC) has placed an Audient ASP8024 Heritage Edition mixing console at the centre of Studio A in the new multi-studio and educational complex.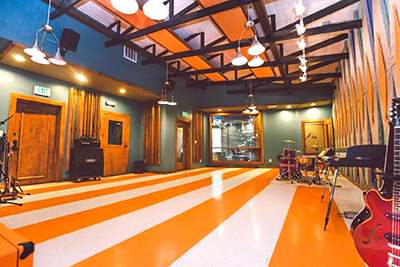 'We were immediately extremely busy with sessions and students' says Chief Engineer and producer, Corey Miller. Together with co-owners Travis Moore and Timothy Walker, Miller is behind a full recording, engineering music production service, as well as running a Recording Arts programme.
'When Covid quarantine hit, we lost our construction crew and continued to complete the studio on our own,' Walker recalls, adding that the remaining build was completed with a skeleton team of six, which included three family members that have construction experience.
Opening just six months later than planned, the studio already has ten active students on its 25-week course, which culminates in five weeks of project-related work. 'We teach a one-on-one instruction format that also includes group and individual workshops, labs and assignments. Students are active in our day-to-day studio operations so they get real-world experience to reinforce their learning,' Walker explains.
When choosing the mixing desk, the team were looking for 'a modern analogue console with class-A preamps, an integrated patchbay and seamless digital integration', to serve both clients and students. They looked to local Butler University (with whom they have a good relationship) for a recommendation. 'They teach with the 16-channel Audient ASP4816. Sharing similar consoles seemed to make sense for potential cooperative learning and an easier learning experience for interns,' Miller says.
The response from students who have had their first lesson on the ASP8024-HE has been 'overwhelmingly positive', Walker reports. 'All students get a kick out of having a patchbay that flows in a different direction than the American-made patchbays. They find the flow very logical once they have been introduced to it.'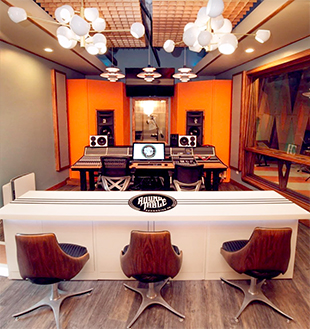 Walker cites one of their students, Noah Glover who said that the console was 'a lot more straightforward and easy to understand than I anticipated', after he had been introduced to it.
Previously a water treatment facility, the striking mid-century architecture of the building was the starting point for the design of the interior. 'It was Travis' creative vision and desire to build an environment that takes artists and visitors to a different and more creative place,' Walker says. 'The features of the acoustic design were the canvas for Travis' vision. We all fretted over every detail, as each one had a purpose and generates creative comfort as well as artistic inspiration.
'The diamond "baffles" are both aesthetic and practical,' continues Tim, referring to the wall decoration in Studio A: The Diamond Room. 'A significant part of the aesthetic was to take the functional acoustic aspects of the studio and make them feel like they were intentional aesthetic elements. Form and function.' Comprising three spacious, well-specified studios and a separate piano/lounge area, the complex was big enough for the team – and latterly students and clients – to be able to adhere to any necessary social distancing requirements.
Walker is pleased that restrictions don't seem to have deterred clients, either: 'Since touring is on hold, many artists have a lot of creative time on their hands and they are anxious to build up their music portfolio to prepare them to return to touring,' he says. 'Our very first session was with National recording artist, Bubba Sparxxx who came here from Nashville to record a collaborative EP.'
So, what's next? 'There are a number of long-standing clients who were waiting patiently for the studio to open. We are really excited to be recording the latest album with a local soul/funk group, Huckleberry Funk.'
That is not all: 'We will be expanding our educational offerings to include a specifically designed Music Production Program. We are excited to begin work on the third and greatest part of our business/dream which is the release of our own branded creative works.
'Our goal is to provide a collaborative and welcoming environment that brings out an artist's creative best. We designed the studios to meet the needs of any genre and provide the engineers with a great space, a great vibe and all the tools to make them successful,' Walker says.