Loudspeaker manufacturer Funktion-One has named Ko Team as its distributor for Israel in a collaboration that 'signals an exciting chapter for both companies' in bringing Funktion-One systems to more venues and audiences around the country.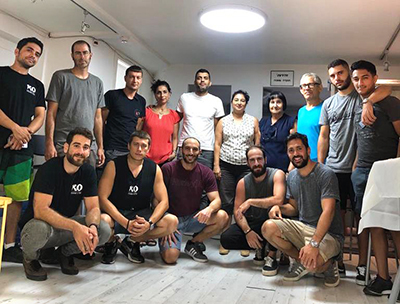 Following a meeting at ISE in early February, a conversation between Funktion-One Director of Business Development Bill Woods and Ko Team's Keynan Oz saw the partnership finalised remotely due to travel restrictions.
'After the show, we agreed that Ko Team are the right company to work with in Israel and take the brand forward,' Woods recalls. 'I was scheduled to visit Tel Aviv in early March but as the coronavirus began to spread, I cancelled my flight and appointments. After about a month, it became clear that trying to plan a visit was pointless, so the handshakes and onboarding had to be done virtually.'
Though the distribution partnership is new, Oz's connection with Funktion-One goes back several decades: 'We have owned many Tony Andrews designed speakers over the past 20 years, and have grown from working as technicians in companies that owned them, then owning them ourselves, learning everything about them and now taking on the distribution,' he explains.
For Oz and his team, the aim is to create the best environments, which means the best possible audio. He continues: 'We believe our mission and life's work is to create the best atmosphere in Israel's nightlife. We see Funktion-One as the very best sound system in the world, so we're very excited to have it in our company.'
Both Woods and Oz see potential in Israel, and an opportunity to bring Funktion-One sound to more people: 'Having spent time in Tel Aviv a few years ago, I was aware of the bustling bar culture in the beach area and the potential for our brand if we were with the right company,' Woods says. 'Keynan and I totally agreed on a strategy and the stock necessary to take that forward. The pandemic conspired to scupper the initial plan, but I am 100 per cent confident in Keynan and his team's ability to put Funktion-One in the position it deserves.'
'There are more than 1,000 nightlife locations in Israel,' Oz adds. 'We are very excited to start installing Funktion-One systems; upgrading our customers and raising the sound quality of installs in Israel.'