Built in 1904 to serve the city's burgeoning performing arts scene, the Cyprian Norwid Theatre in Jelenia Góra, Poland, has hosted countlress events including plays, concerts, lectures, religious events and ceremonies.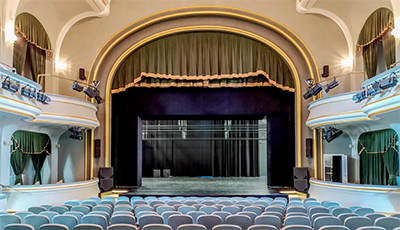 Serving an audience of 540, its main stage has provided the backdrop to thousands of shows and retains its original design to this day.
However, two balconies and a number of private boxes has proved a challenge to its sound over the years – reflective surfaces compromise audio clarity in some locations inside the theatre. When looking to modernise the theatre's technology in 2020, integration and distribution firm M.Ostrowski sp.j chose digitally steerable loudspeakers to improve both coverage and intelligibility.
'To meet the requirements of the theatre we chose a Renkus-Heinz system,' says Dominik Wilczynski, audio engineer at M.Ostrowski sp.j. 'The great advantage of using Renkus-Heinz is the ability to create digitally steerable beams and keep the loudspeakers mounted flat on the wall. By using software to tailor an asymmetrical beam and steer it towards the listeners only, we limit unwanted reflections. This improves direct sound and intelligibility.'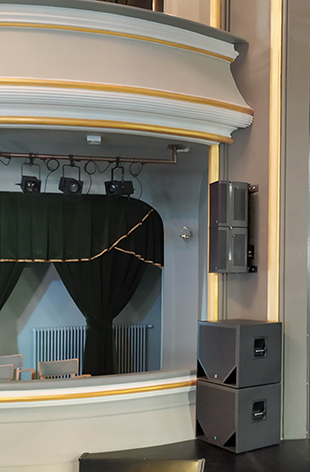 The theatre now has four Renkus-Heinz ICLive X steerable array modules installed on the ground floor – two-unit tall ICLX arrays on each side of the stage – and two ICLive X modules on the balcony level. The theatre also has four ICLive X 118S subwoofers on the main floor, which are portable to allow scalability in sound depending on the type of performance.
The ICLive X series is the latest evolution of the medium-format, steerable line array in the Renkus-Heinz line. ICLive X modules feature Dante networking, which assists easy system deployment and low impact installation – a key consideration for heritage protected locations such as the Cyprian Norwid Theatre. ICLive X steerable beam technology allows sound to be digitally directed precisely where required.
'During the implementation, we had an unexpected change in the loudspeaker system design, where the delay boxes for the second balcony had to be removed,' says Wilczynski. 'But with Renkus-Heinz' digital beam steering we were able to program multiple beams so they are directed precisely where we need the coverage. It is a huge benefit that the technology is so flexible, and that it addresses real problems we see in the field.'