The premier professional meeting space for Mexican state of Querétaro, the Querétaro Centro de Congresos hosts more than 15,000 people in multiple spaces within a stunning building. The Aqueduct Rooms (a suite of ten rooms with a capacity for 150 people each) and its Constitution Room (which accommodates meetings of up to 80 people) serve a variety of in-person briefings, conference calls, seminars, corporate breakout sessions and other events.
The location is also home to the Querétaro Teatro Metropolitano – which includes a 1,345-person theatre, a dance room, and an 'experimental' room where live performances take place. The main event room – capable of holding around 12,000 people – is often partitioned into smaller spaces for meetings to take place.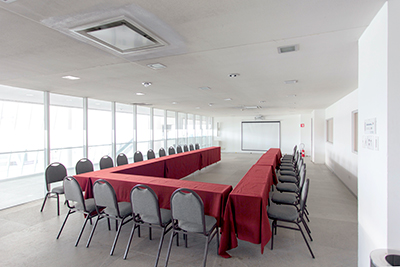 The Querétaro Centro de Congresos's individual meeting rooms are key rental locations in the facility. The 80-capacity executive boardroom and the 150-person meeting room allow for key government meetings, breakout sessions during conventions, and private meetings to be held for anyone that may be renting the building.
The unifying factor across the multi-use campus is a scalable and interoperable AV-over-IP system built on Audinate's Dante digital audio networking protocol, as installed by Ponle Audio.
Because different configurations for meetings are often requested, the management of the spaces used to require a heavy lift on the part of the IT staff. 'The way things used to work, when we used traditional cabling, you basically needed one technician for every room,' said Joel Ramírez, Production Supervisor at the location. 'When the building was busy, which it often was, that was extremely hard to manage.'
Further, every renter of the space – from medical conventions to government hearings – had their own specific needs and set-up requirements.
'This was never about just reducing the amount of work,' adds Héctor Quintero Martínez, Head of Operations for the facilities. 'We honestly needed to get to a place where the customer wasn't worrying about any set-up at all. They just want to come in and use the system, so we needed it to be seamless.'
A Dante-backed system provides just that: a frictionless integration of any type of audio equipment that might be used during a meeting, presentation, or performance. 'Most microphones and all speakers are Dante-enabled,' Martínez says, 'We can control the system from a central location where we use a central DSP and route audio to the ten different locations. Control panels for each space mean we can offer them a level of local control as well. This setup also allows us to offer service packages that are definitely going to meet the needs of anyone who is using the space.'
An example, backup microphones in the building are all set to join the Dante network once they're powered on. If a show or corporate meeting client arrives and suddenly needs far more microphones than was previously thought – a request that tends to happen last minute – the change is as simple as handing them more microphones. They simply plug the microphone into the Bose ControlSpace XLR wall plate, and they're ready to have a meeting.
'No more running cables,' says Head of Forums, José Enrique Pérez. 'It is honestly amazing how much this has improved things. It's amazing to see it work, and it's incredibly easy to use.'