Among the world's leading suppliers of event communications systems, The PA People counts some of the largest celebrations and events across the globe – including five Olympic Games – in its portfolio. Based in the Sydney suburb of Rhodes, the company's inventory includes wired matrix and digital matrix intercom systems, trunked and traditional two-way radios, CCTV systems, time code displays, event networking and Wi-Fi, mass cast monitoring and full duplex comms systems.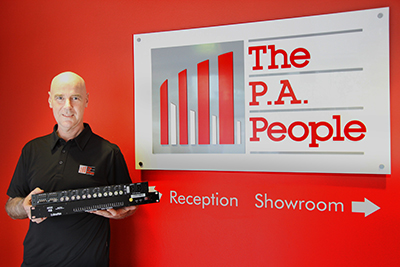 Recently the company was looking to improve its equipment arsenal with a broadcast-quality video transport solution. 'We looked at quite a few solutions from a number of vendors from around the world,' says company MD, Chris Dodds. 'Our initial focus was on equipment based on the emerging SMPTE 2022 standard, but it quickly became apparent that the level of networking equipment required was simply not tenable for live short-term events.'
Instead, the team turned back to alternative technologies and rediscovered the BroaMan range of fibre-based solutions. BroaMan, sister brand to Optocore, has developed a number of solutions based on single-channel and CWDM technology to transport SDI video and audio signals over a fibre backbone.
'We were looking for a solution to transport multiple channels of SDI video across venues and between breakout rooms,' says The PA People Senior Account Manager, Andrew Rodd. 'When we found the Repeat48 product we found just what we needed, and we knew that with the Optocore heritage it would just work.'
Repeat48 is a series of application engineered electrical-optical-electrical media converters for 3G/HD/SD-SDI or AES10/Madi signals. It converts video or digital audio between coaxial and optical connections. Both the Repeat48 and Repeat48 WDM can be populated with up to 12 dual-channel 3G/HD/SD-SDI or AES10/Madi modules and SFP fibre-optic transceivers at point of manufacture.
The PA People has standardised its inventory with the BroaMan Repeat48 WDM units, configured to transport six channels of SDI video in each direction over a single pair of single-mode fibre-optic cores. Each unit can also transport an auxiliary 1310nm wavelength to allow a network, and an Optocore path or other service to utilise the same fibre cable.
'We are very happy with our purchase. The Repeat48 units have added yet another dimension to our event communications offering,' Dodds adds.' Since our purchase we have successfully used the units on a number of high-profile corporate events, as well as at last January's inaugural ATP Cup in Sydney.'
The BroaMan solution provides the final piece of the jigsaw, and has enabled The PA People to transport video at live events alongside comprehensive network solutions.