Serving as the regional headquarters for Northern German Broadcasting (NDR), the Landesfunkhaus Niedersachsen in Hanover is also one of Lower Saxony's most recognisable landmarks. The buildings include the Kleiner Sendesaal, a 350-seat hall that hosts to corporate and music events along with the 1,250-capacity Großer Sendesaal, which is home to the NDR Radiophilharmonie that performs more than 100 concerts each year.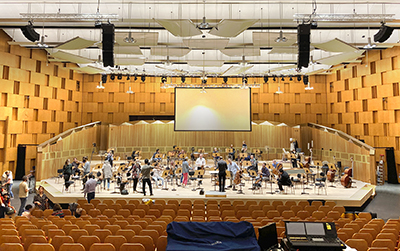 With events that span live music to film concerts with cinema sound, both halls have received a major audio upgrade designed around L-Acoustics Kiva II and A Series replacing the existing systems that no longer met the demand for high-quality sound reinforcement.
'The ever-increasing sound quality requirements, coupled with the rider requirement of incoming productions led us to look for a new, optimised sound system that can take us into a new era of audio,' explains Ingo Schwarze, music production team leader at Landesfunkhaus Niedersachsen. 'Apart from the requirement for a distortion-free reproduction of certain acoustic levels such as headroom, the list of key criteria included achieving the most uniform possible coverage of the entire auditorium. We also needed a system that would eliminate wall reflections, attain high speech intelligibility, and attenuate sound onstage.'
Following an assessment of available solutions that met the team's strict requirements, two systems were retained and Theapro was commissioned to provide the final comparison round – which saw L-Acoustics win in both technical measurement and listening tests.
As well as the requirement for sound quality, the installations were constrained by architectural requirements – there were clearly defined rigging points with weight limitations, height restrictions for film performances where speaker hangs needed to be clear of the cinema screen, and pre-configured placement of side and front fill.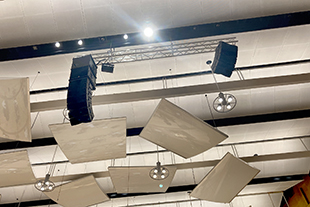 With L-Acoustics confirmed as the system of choice for both halls, Sales Manager Sebastian Wittrock and Head of Application for Install Martin Rode devised the system design. The final configuration for the Großer Sendesaal comprises LR hangs of seven Kiva II and two SB15m subs in a cardioid arrangement. Three SB18m subwoofers are positioned as mobile stacks on either side of the stage, with five Kiva II deployed for side fill, and nine 5XT coaxial loudspeakers evenly spaced across the stage lip for front fill. One 5XT per side also serve for out fill.
'Kiva II excels in the large hall, where the hexagonal floor plan makes it exceptionally difficult to achieve uniform sound distribution,' Schwarze says. 'Previously, we had major problems with reflections, frequency cancellations and the resulting poor speech intelligibility. With Kiva II, those issues have been noticeably improved.'
The Kleiner Sendesaal boasts LR hangs of one A10 Focus and an A10 Wide. Two mobile stacks of two SB18m subs are positioned left and right, again in cardioid mode.
'A Series was chosen for the small hall as the team wanted a full-range system that could also be highly versatile, since subs can't be flown or placed there,' explains Wittrock. 'A Series Panflex variable directivity gives us the ability to steer dispersion in the horizontal plane, preventing unnecessary reflections from the walls.'
Schwarze particularly appreciates the fact that the SB18m subs are mobile: 'We can use them in both halls, depending on the sound requirements, which is great for our ROI.'
The full system implementation was handled by Amptown System Company.
'We are really satisfied with the system design for both halls. Our early experiences with the overall sound are extremely positive, especially the low frequency range which, even without using the mobile SB18m subs, is impressive,' Schwarze concludes. 'We are very much looking forward to the first post-pandemic shows with physical audiences and are confident they appreciate the excellent sonic quality of the new system.'
More: www.l-acoustics.com