Improving integrators' and end-users' access to Renkus-Heinz loudspeaker systems in France, the US-based manufacturer has appointed DEMOA as its regional representative.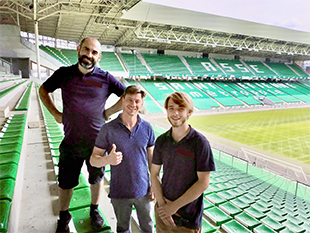 DEMOA specialises in professional audio and video solutions across markets that dovetail well with Renkus-Heinz' mission to place sound precisely on the audience. This includes work in the education, hospitality, corporate, live performance and sports facilities. Recent projects include the five-star Hotel Manali, the St Etienne City Stadium, Rolland Garros Stadium, and Gaia Restaurant.
'DEMOA is a rapidly growing team of well-known and respected talents in the country, and will offer a specialist approach to supporting audio professionals and end-users seeking to place high-quality audio with precision,' says Renkus-Heinz European Technical Sales Manager, Michal Poplawski.
'The French market will greatly benefit from this partnership as Renkus-Heinz crafts impressive, high-end solutions that bring a technical advantage to audio integrations,' says DEMOA CEO, Etienne Bérard. 'By bringing these incredibly valuable products to our customers, organisations in France will have better sounding A/V systems – and customers of those organisations will have access to a better sounding world.'