Among the first cinemas and theatres around Japan to reopen, the Yokosuka Humax Cinema has used its downtime time to upgrade its sound system with the installation of a d&b Soundscape object-based immersive system and a QSC Q-Sys digital network.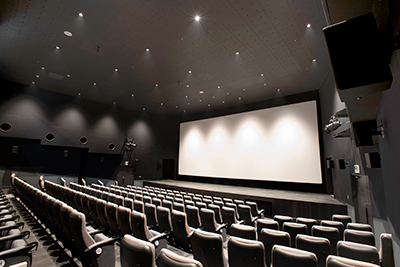 Early in the wider venue upgrade, it was decided to re-design one screening room to showcase live events as well as films. Yokosuka Humax Cinemas took on the project with support from distributor Xebex Inc. Together they installed a stage and high-end audio system into the multi-purpose room, now called the Movive Theater.
'Using a space such as this for movies and live events poses a significant challenge and we needed the right sound system that was capable of delivering on both,' says Yokosuka Humax Cinema Department Manager, Yusuke Iwano. 'We listened to d&b Soundscape at two previous events – a Kraftwerk concert in Tokyo and the Sapporo City Jazz Festival – and knew straight away Soundscape would be the best fit. The decision, ultimately, was an easy one.'
This is the first time Soundscape has been installed in a movie theatre and, while audiences have yet to experience the full effect for live events, the new audio system has already received overwhelmingly positive responses from its movie screenings.
'We've received some great feedback already on social media, with audiences expressing how clear the sound is compared to other cinemas,' Iwano says. 'The past few months have been hard and it has been a long road to get to where we are, but d&b have been a huge support throughout and it has truly been worth the wait.'
The core of the d&b Soundscape is a DS100 Signal Engine with Audinate Dante networking, and a delay matrix with extensive input/output processing. The full potential of d&b Soundscape is accessed via two optional software modules that form a toolkit for sound designers – d&b En-Scene and d&b En-Space. Both of which are accessed via the d&b R1 Remote control software.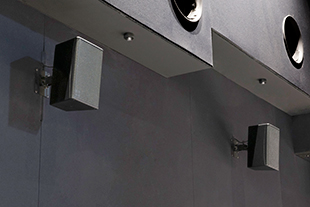 The installation required microphones to be installed in the ceiling of the theatre to feed the En-Space engine to shape the room reverberation. The Q-Sys system has a plug-in for the DS100 that enables an operator to control and monitor the d&b amplifier using an iPad. However, it is also possible to control reverberation signature of the room directly from the Q-Sys tablet.
Five d&b 24S/24S-D boxes are used at the front of the room with 16 8S as surrounds. Two subwoofer deployment support them – four 18S boxes installed behind the screen for movies, with two 21S subs under the stage for live events.
'Soundscape allowed us to bring our unique vision to life,' Iwano says. 'There is no other cinema in Japan that can offer audiences both live performances and movies. With Soundscape we are giving audiences the ultimate immersive audio experience in a multi-purpose venue.'