Pensacola Christian College teaches over 4,500 students at its campus in Florida. Its students gather in the nearly 6,000-seat Crowne Centre for community-building, events, chapel, concerts and services on Sunday morning, and Sunday and Wednesday evenings. Sunday morning services are recorded and broadcast as Rejoice in the Lord on the Daystar Television Network.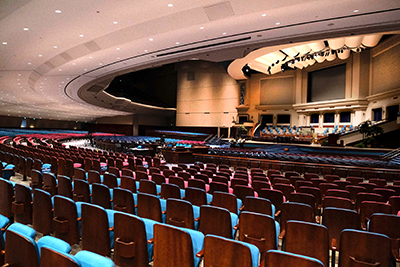 All Pro Integrated Systems recently replaced a large number of loudspeakers, subwoofers and amplifiers in the centre with a vastly smaller number of Danley products, including Jericho Horns, TH118XL subwoofers and DNA amplifiers.
'We put the original sound system in when the building was new almost 20 years ago,' says All Pro Integrated Systems' Scott Vegte. 'It performed well for technology of the time, but had passed its sunset age – components were failing, and the manufacturer was no longer making replacements.
'We started talking about upgrading in 2018 and moved into planning in 2019. Because the Crowne Centre gets used almost daily, we knew we would have a short window to do the actual installation. Everyone involved knew there would have to be plenty of planning to make the installation smooth and successful.'
'We travelled with the team from All Pro to InfoComm 2019 in Orlando to shop for possible replacement systems,' says Pensacola Christian College TV and DVD Production Director, Greg Moses. 'We listened to five of the biggest names in high-end live sound systems – Danley was one of them, and we were thoroughly impressed with their presentation. They showed us a huge number of consistent-sounding products to fit different situations.'
Moses and his colleagues invited the top contenders to a shoot-out at the Crowne Centre, and the Danley team, including President Mike Hedden, brought the Danley J7-95, which is capable of continuously delivering 141dB SPL in a 90° by 50° coverage pattern with studio-monitor-level fidelity. Danley was the winner of the shootout.
'Point source is really the way to go when you can long-throw,' says All Pro Integrated Systems' Chris Wickizer. 'Danley's point-source designs are excellent. They sound natural even when they are running flat.
'We've had Danley subwoofers in the Arlin R Horton Sports Center for five years now, and we drive them hard for special events,' Moses adds. 'They can rattle the place. In addition, we put a couple of Danley GO2 8CX loudspeakers in our 100-seat theatre. They were a night-and-day difference…'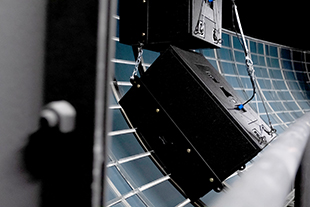 After the results of the shootout, Wickizer worked to design a system for the Crowne Center that would give the college plenty of horsepower, even coverage and superior intelligibility. In addition, he worked within the framework of the existing system to minimize the installation time, including the preservation of fabric-wrapped speaker enclosures that retain the visual aesthetic of the previous system. The new main system replaces fifty loudspeaker components with eight J7-95 Jericho Horns and a pair of SH46s for side fill.
The Jericho Horns are arranged in four hangs of two boxes each – one for the main floor and one for the balcony. Four TH118XL subwoofers hang from a centre scrim and provide the same low end that the college is happy with in its sports centre arena. Although the eight Jericho Horns cover the vast majority of seats, 54 distributed SH95 loudspeakers replace the speakers in the under-balcony area. In addition, eight SHmini loudspeakers fire from the lip of the convertible stage for front fill as needed.
On top of the reduction in loudspeakers, All Pro replaced 66 old amplifiers with 13 Danley DNA-series multichannel amplifiers, seven four-channel DNA 20k4 Pro models, five eight-channel DNA 10k8 Pro models, and one eight-channel DNA 3k8 Pro. Together, the amplifiers provide 76 channels and nearly 200kW of power. All of the amplifiers use onboard DSP for modest loudspeaker and subwoofer conditioning, and all include optional Dante inputs for simplicity and fewer conversions. As part of the installation, All Pro also upgraded the Crowne Centre FOH and broadcast consoles from Studer Vista 9 to Studer Vista X.
'The new system is remarkably better than our old system,' Moses reports. 'Everyone who has heard it says that the sound seems to be coming from right in front of you. It's very intimate and pleasing even though the Jericho Horns are fifty feet off the floor and one hundred feet away. At the same time, it's not overpowering. We love the improved efficiency. We have far fewer loudspeakers and amplifiers to worry maintain. The coverage is perfectly even from front to back and from side to side. There are no dead spots or hot spots, no dips or lags. Even though I know exactly where the transition points are, I can barely detect them. Critically, the intelligibility is fantastic – everyone can understand exactly what's being said.'