Powersoft has launched its fully overhauled website, with a new layout and simple navigation structure designed to help users to quickly and easily access essential information, while offering a comprehensive understanding of the company's value proposition, technologies and solutions. The new website is also fully responsive, making it compatible with all browsers and easily navigated using mobile devices.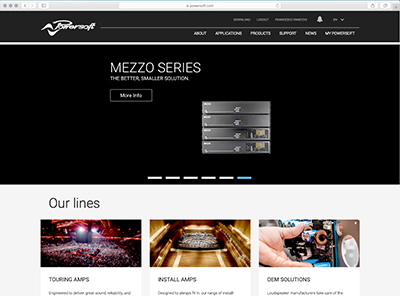 'Through this easy-to-navigate design, users can learn about Powersoft including the services offered, says Brand, Communication & Trade Marketing Manager, Francesco Fanicchi. 'It also details the applications the Powersoft's products are suitable for, as well as providing support material, product guides, tutorials, application examples, and case studies. We hope that this new design will help customers to learn about Powersoft solutions and their relevance to specific applications or market verticals.'
Another aspect of the brand new website is the introduction of MyPowersoft, which grants registered users access to Powersoft ArmoníaPlus software and ProManagerPlus multi-purpose configuration tool, without having to remember multiple accounts and passwords.
'MyPowersoft is not only the simplest way to connect with Powersoft users and partners by providing what's relevant to them, but it also allows them to gain access to an exclusive set of tools and services,' Fanicchi says.
ThroughMyPowersoft, website users now have access to product registration and warranty status check; the Powersharing & Comparison Tools; E-Learning and certifications; Technical support; Product repairs and repair tracking; and even more new exciting services coming at the beginning of next year. Moreover, users who ship their units to any of Powersoft's 30 globally connected, authorised service centres can check and monitor the status of the repair by logging into MyPowersoft.
The new website will be updated on a regular basis with news of product launches, case studies, training courses and corporate information, and is available in Italian, English, Chinese, Spanish and Portuguese.
More: www.powersoft.com