Operated by a partnership between four Dutch production professionals, Amsterdam's West Side Studio specialises in postproduction sound and offline editing for motion picture and television. Its most recent development is a new cinema screening room, where an Alcons Audio pro-ribbon 7.1 surround system has impressed the studio's owners and clients alike.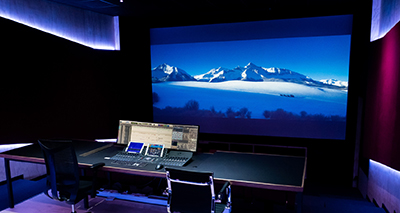 Located in the busy port area just northwest of central Amsterdam, West Side Studio is the brainchild of Evelien van der Molen, Mieneke Kramer, Lennert Hunfeld and Vincent Sinceretti. Comprising several edit suites and an ADR studio, for the new cinema room they wanted 7.1 reference monitoring, but with the quality and flexibility for future expansion to full Dolby Atmos specification.
Cinema exhibition services specialists CinemaNext supplied and installed the equipment in the new room and, after assessing all available systems, Alcons Audio's CRMSCompact was chosen for the loudspeaker system. 'We wanted to have a really simple, straightforward system with the least amount of conversions in the signal chain,' says Sinceretti. 'The Alcons pro-ribbon solution allowed us to route digital audio from our Pro Tools system directly to the loudspeaker system, without having to put anything in between.'
The West Side team had previously visited Amsterdam's STMPD recording studio, owned by superstar and featuring an Alcons-equipped Dolby Atmos Premier Studio. 'The listening tests proved to us that Alcons was not only the best system, but it also offered the best value for money,' Evelien says. 'It was confirmation that we were making the right choice.'
CinemaNext installed main screen LCR CRMS Compact cinema reference monitor systems, six CRMSC-SRHV/90 compact reference surrounds and a CB362 high-output, full-size subwoofer system. It is all powered and controlled by two Sentinel3 amplified loudspeaker controllers.
'The Alcons pro-ribbon solution delivers clear, transparent sound that keeps its exceptional quality, even at high SPLs,' Hunfeld reports. 'It's very easy and flexible to use with the Sentinel3s and we were also impressed by the shallow form factor.'
Offline editor Kramer adds: 'From an editor's point of ear, the quality of the offline edit stereo bounce really stands its ground. There was more clarity and detail than I could judge in my edit suite, without being confronted by a poorly sound edited cut coming from the offline edit.'
'We are very happy with the system and have had a great response from other sound designers and mixers. Clients feel warm and comfortable in our mix studio and are impressed by its sonic capabilities,' concludes van der Molen.