Based in Croatia, the MS My Wish accommodates 38 guests in a yacht-like hull that is able to navigate narrow waterways to explore not only Croatia's medieval cities but also quieter islands that are largely inaccessible to larger vessels. Boasting an onboard restaurant, large sundeck, rooftop hot tub, and swimming platform for access to the ocean, the vessel needed an audio system to match its design – outstanding sonic quality without compromising on size.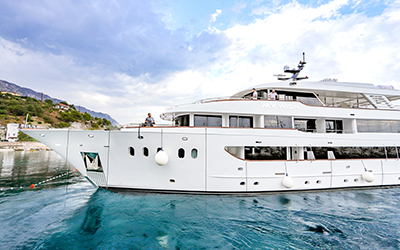 'Powersoft's Mezzo 324 and Mezzo 604 were perfect for the job,' says Captain Marin Crncic.
The Mezzo series is Powersoft's package for delivering sound clarity, reliability and build quality in a small install amplifier – just half of the rack unit form factor. All models come with onboard DSP, offering either two or four channels of output. The Mezzo, in its smaller versions, is a sealed design and approved for hidden placement, such as mounted above a ceiling or tucked into wall box, perfect for a smaller cruise ship.
'The ship required an audio system that could be spread over 12 zones and could be adjusted accordingly,' Crncic explains. 'One of the most demanding areas is the sun deck, which uses two subwoofers, six ceiling all-weather speakers and two professional two-ways for the jacuzzi, and the Mezzo handles it perfectly. It also simplified the process massively due to the built-in DSP, which helped tune the system.'
The system needed to deliver alternative audio content, accommodating the different zones where sound is required, such as the main saloon, lounge and two rear decks. Audiotehnika chose to go with a Wi-Fi controlled system, allowing crew to monitor the system regardless of location and, if need be, change the audio.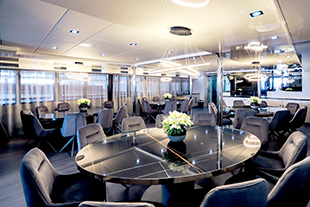 'The speakers can play a variety of audio – CDs, USB and radio – and can be played in each zone independently, which was a key part to the design,' Crncic says. 'It allows us to tailor the music to different areas of the ship.'
The audio design also allows for microphone input. In the five main zones of the ship, the crew can plug in a microphone and make announcements or provide tourist information, which makes communicating with the guests onboard simpler and easier.
The success of the audio system with the Mezzo amplifiers has been evident in prior to the ship's use in August. 'When we tested the audio, we actually had a number of nearby boats approach and give positive feedback,' Crncic recalls. 'So, we know for sure that the system is incredible.'
More: www.powersoft.com