Currently under construction in readiness to open in November, Dillon's Garage is a destination recording studio that will offer high-end audio recording and production in Fort Smith, Arkansas. The multi-studio facility is being built in support of the local music scene by Dillon Taylor following formal training at the Blackbird Academy in Nashville.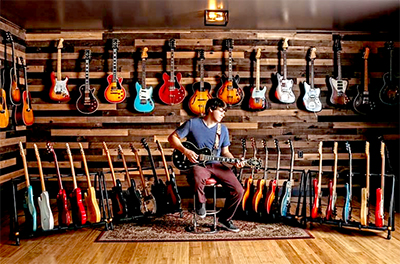 With its private 15 acres nestled away in the countryside, musicians can enjoy a full bus docking station complete with a 50A connection, a beautiful three-acre pond with a pier, and amenities to elevate the creative process – all behind a privacy fence to ensure artists a private setting.
Featured in the Studio A control room space will be an API Legacy AXS console. Prominent Nashville engineer and producer, Steve Marcantonio has been retained as the primary audio consultant to advise on acoustics, equipment choices and facility operations.
'I was introduced to the Taylors by Mark Rubel of Blackbird Academy and was immediately impressed with their commitment to a completely professional operation,' he says. 'With Dillon's knowledge from Blackbird and my confidence with my experiences with API at The New York Record Plant, to the Sound Emporium in Nashville, and now Blackbird Studios, our choice of the API was not a difficult one to make.'
'My experience at Blackbird Academy and the studios, working on the API 1608 and Legacy Plus consoles, made my choice for the Legacy AXS a no-brainer', adds Taylor. 'After all, it's all about the sound, and of course the API gives us an incredible signal path, plus all the features and automation benefits we need at the Garage'.
The custom AXS console features 32 full inputs, an array of 225 compressors, six reverb returns that double as a 12-channel stem mixer, an integral 2500 Stereo Bus Compressor, and API's Final Touch moving fader automation system, with DAW control of faders, mutes and inserts.
More: www.apiaudio.com