Having closed its doors in 1979, the Kingsway picture house in the Kings Heath area of Birmingham is now being used by Friendly Neighborhood Cinema to host a seven-week film festival in Covid-safe conditions, with local rental house SLLFX called in to furnish the sound and display requirements.
Only the frontage of the original venue still stands following a fire that destroyed the building in 2011. However, with the land behind the site clear, it was an ideal opportunity to draw on the historic roots of the venue to host a socially distanced film festival.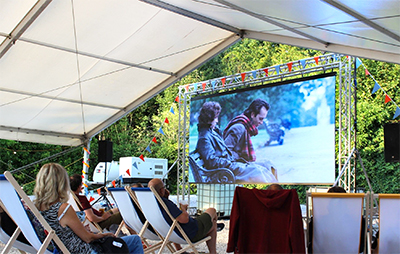 With the prestigious location found, Friendly Neighborhood Cinema needed technical equipment that could do justice to the traditions of The Kingsway. As such, it approached SLLFX to provide the screen, trussing and sound system, and given the iconic nature of the venue, the rental company was only too happy to oblige.
The team at SLLFX decided that a 5m x 2.5m screen created from its high definition P6 outdoor LED stock would be the perfect solution for the open-air pop-up venue. This was complemented by an Electro-Voice ZLX sound system controlled via a mixing desk that was designed to cover the seating space but not spill over into neighbouring residential areas, as well as a wireless headphone system to provide a more intimate experience. Finally, a truss structure that could adapt to the uneven ground completed the set-up.
'The greatest challenge we faced was the turnaround,' explains SLLFX's Lee Dearn. 'Our client wanted the screen to be installed the day before the opening night. From initial call to delivery, our team provided the full plan, risk assessment, build and test within 48 hours.'
Reflecting on the overall success of the project, Dearn reports: 'All of the screenings went smoothly, but our staff were on call to attend within 30 minutes had there been any issues. We are extremely happy with the way the screen performed and looked in this historic setting.'
Both Open Air Cinema Club BG and The Friendly Neighbourhood Cinema – as well as the cinema's guests – have been impressed with the technical set-up and service delivered by SLLFX.
'The 20m2 high-definition LED screen provided by SLLFX, along with the complete audio system is wowing audiences young and old,' says Lee Kelly, Director of Open Air Cinema Club BG. 'The level of support from SLLFX has been top-notch, and I can't recommend them enough. As a struggling industry due to covid-19 restrictions, SLLFX is leading the way in supply of technical and services support.'
More: https://sllfx.co.uk