Symetrix and EZ Pro International recently took the hands-on Symetrix Composer Certified Trainings to system designers throughout China, beginning in Shenzhen in July and visiting Shanghai, Beijing, Chengdu and Xi'an. The tour left behind a cadre of highly-qualified Symetrix system designers in the region.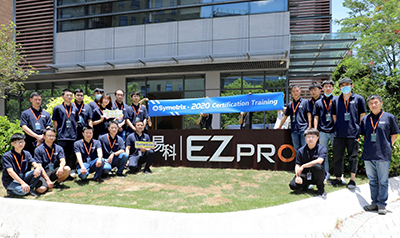 Presented in three levels – Basic Training, Certified Programmer Training, and Master Training – the sessions used small class sizes, flexible training sites and expert lecturers including EZ Pro Vice President, Kane Zhang, and Brand Manager, Tim Wang.
During Basic training, students learn how to upload finished configuration files into their systems, make sure they are running smoothly, and learn Symetrix basic functions. This prepares graduates of the Basic training class with the skills they will need when interacting with a remote support technician from EZ Pro. After passing Basic training, students can take the Certified Programmer training where they learn how to independently program Symetrix devices with Composer software, develop a complete understanding of Symetrix system design, and how to use Symetrix products to address any system need. Finally, Master training provides students with the opportunity to become experts in all aspects of Symetrix system design, programming, and debugging.
'Numerous people have already passed the certified programmer training, and all are expected to come back for the master training,' Zhang says. 'These trainings have proved to be a great success and we are looking forward to continuing them in the future.'
The Symetrix Composer Certified Trainings continue to cultivate technical talents in system designers throughout China and have received exceptional feedback from students and companies alike. After completing the trainings, students have an in-depth knowledge of Symetrix products and Composer software, understand the importance of DSPs, and improve their skills in DSP commissioning.
With Covid-19 restrictions still in place, all trainings following standard safety procedures as outlined by the Chinese Government. EZ Pro has gone to great lengths to ensure these measures are met and maintained.