'This pandemic has forced creative people to have to get creative about everything – even things we usually take for granted,' states US live production, sales and systems integration provider 3G Productions Operations Manager, Tom Worley, following ork at Los Angeles' Sixth Sense Creative House, a flexible production space for live events, film and audio recordings and live streaming from its sound stage.
Key to the venture are two DiGiCo SD12 mixing consoles and a new Quantum7 console, as well as two SD-Racks fitted with 32-bit Stadius mic preamps, linked via a single Optocore network.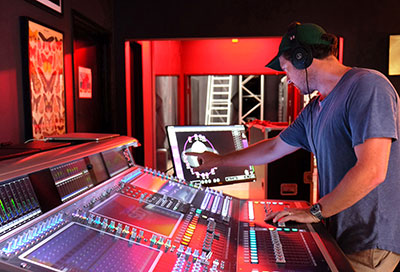 The desks are equipped with DiGiCo's new DMI-Klang card, an immersive in-ear mixing expansion that can be mounted directly into a console equipped with DMI slots for native Klang control from the desk's work surface. The Klang system is an option for those using Sixth Sense's streaming facilities to offer listeners a fully immersive experience online over headphones, while the SD12 and Quantum7 consoles provide live sound and recording engineers a familiar and powerful worksurface for any kind of audio mix.
The consoles are located in Sixth Sense Creative House's main live event space, as FOH and monitor desks for a sound stage with an All Access turntable stage that allows festival-type back-to-back concert productions. The Quantum7 console is installed in a nearby recording and broadcast control room. Both spaces can access live streaming and offer Sixth Sense clients the use of the Klang system – run from the DiGiCo consoles in conjunction with the Mac OS Klang:app – which will help set their productions apart at a time when live-streamed music productions have become ubiquitous.
'With producers now so highly restricted as to how to put shows on and what those shows can do, Klang offers them an experience they can use to set their productions apart,' explains Worley. 'The system lets a show convey the true dynamics of a live concert in a real venue over the internet.'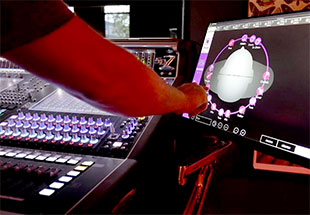 Developed for musicians onstage to create individual immersive mixes, the Klang system uses binaural head-related transfer-function modelling to provide an authentic three-dimensional listening environment. By breaking out of the traditional left-right format and spreading instruments and vocals around a 360° space, users are able to significantly reduce volume levels and reduce ear fatigue.
Used in tandem with the DiGiCo Quantum7 and SD12 consoles, the Klang engine creates a unique experience – not only for the musicians performing, but also for the Internet broadcast audience – to help make Sixth Sense Creative House a destination for creatives seeking to have their productions cut through the pandemic-induced clutter of live streaming.
Built as a place to create for production professionals, designers, and directors all under one roof, Sixth Sense Creative House is a turnkey solution with live production and recording facilities, notably including an L-Acoustics L-ISA immersive live sound system, tour-grade dynamic lighting rig, and 30x10ft, 3mm, two-sided LED video wall.
'Sixth Sense Creative House is our way of approaching a very challenging moment in the live event production industry and to do so in a way that lets artists and producers access both unique and familiar tools,' says Worley. 'The Klang system is perfect for offering virtual audiences a remarkable, immersive listening experience and their audio mixers a powerful and widely used work surface from which to mix it. The combination of Klang and DiGiCo gives Sixth Sense Creative House an edge for the times we're in now. It lets us make the difference.'
'This is a hard time for our industry and all the great people who make a living in it,' says 3G COO, Keith Conrad. 'We, at 3G, wanted to create something that has the ability to bring our people back to work and give us a purpose as we navigate these challenging times. I'm thankful to the great partners – in DiGiCo, L-Acoustics and All Access – that helped make this dream a reality and I'm so proud of my team for the initiative and perseverance shown in designing the studio. Can't wait to see what lies ahead as our creation grows.'