Hosting a variety of music and concerts but best known for its Open Music Concert, KBS Hall broadcast events live and also records them for later broadcast. Its operator, the Korean Broadcast System (KBS), has updated the hall's mixdown room with a 48-fader Stage Tec Aurus platinum mixing system.
The console was supplied by Syncfish, Stage Tec's distributor for South Korea since 2002, which has provided many digital audio solutions for KBS.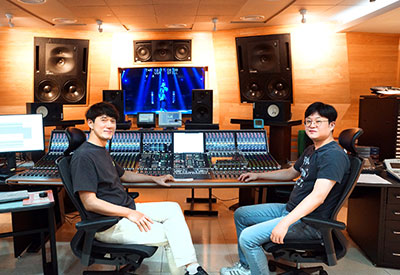 In order to retain irs technical edge alongside a Merging Pyramix multitrack recorder, the upgrade of the mixdown room at KBS Hall – located on Yeouido island in Seoul – sees the Aurus mixing console integrated with an existing Merging Pyramix multitrack recorder using Ravenna/AES67 audio network technology, as well analogue effects units. AES67 allows individual items to be connected to a network that primarily uses one protocol.
Aurus is Stage Tec's flagship mixing system, marrying audio quality with a generously equipped user interface that makes all important functions available with a single touch. All common audio processing functions can be accessed directly from each channel strip. Especially important for the broadcast sector is the unrestrictedly flexible bus structure of Aurus with intelligent on-air/off-air solutions. In addition, compliance with the existing AOIP was a particularly requirement for this project and the Ravenna/AES67 protocol must match the Merging Pyramix, Aurus was the preferred choice.
Music events at KBS Hall often involve up to 100 people on the stage, and for large classical events there may be as many as 200 artists – a special challenge for system and mix engineers. The new system is supported with a minimum of wiring and simple clock sync method (PTPV2). For mixing, automation buttons are integrated in the interface to make optimal use of the console's internal functions, and the Nexus system and all other connected devices. Forty user keys meet custom requirements, from simple routing changes in the audio network to PTZ control of connected cameras. All operations can also be stored in scenes and run automatically.
Feedback from the engineers at KBS Hall include the sound quality never experienced with consoles that KBS has used before, and the absence of any bugs and malfunctions of the Aurus console.
KBS began operation in 1927 as Gyeongseong Broadcasting Station, Korea's first radio station. Today KBS is a public corporation funded by the South Korean Government and licence fees, but is managed independently. In addition to 18 regional stations and 12 overseas branches, there are eight subsidiary companies such as KBSN, KBS Business and KBS Media, which manage KBS content. The KBS complex in Yeouido is home and filming location to many famous Korean shows, where a viewing window allows visitors to watch the KBS radio DJs at work and an in-house exhibition explains the broadcasting world.
More: www.stagetec.com