Rock Bridge Community Church operates six locations around Northwest Georgia, one of which is in a suburb of Chattanooga near the Tennessee state line. All offer a contemporary worship style, and five venues – Calhoun, Chatsworth, Ringgold and Dalton's Stage 123 and historic 1,165-seat Wink Theatre – now have L-Acoustics A Series constant curvature line source sound systems.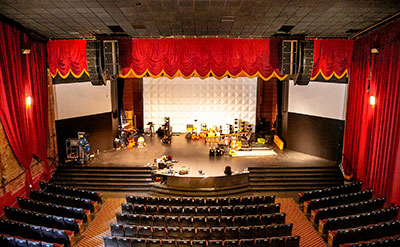 'The A Series is a very cohesive system,' says Steele Beaty of Skylark Audio Video, the Oklahoma City-based integrator that designed and installed the PA for all five worship spaces. 'The Wide boxes have a 30° vertical pattern, and the Focus has a 10° vertical pattern. Between them, we have the tools we need to fill a challenging venue like the Wink Theatre, where the balcony is 105ft long, and the main floor is 95ft long, but the entire venue is only 56ft wide. It's the very definition of a "shotgun" room.
'That's why we chose to fly left and right arrays of five A15 Focus enclosures over one A15 Wide. Plus, the A15 enclosures have the Panflex adjustable waveguides that let us narrow the pattern width to 70°, which also gives us a +2dB boost in the high frequencies, so not only do we avoid getting any energy on the walls, but we accomplish it without using any DSP. A traditional line source array simply can't do what we were able to accomplish at the Wink with the A Series array.'
Rock Bridge Community Church Director of Strategic Initiatives John David Boreing adds that the Wink Theatre location – a landmark building that opened in 1941 as a movie theatre and was purchased by the church in 2004, two years after they began using it – presented particular challenges that the A15 system was able to overcome.
'The large balcony was the really difficult part,' he explains. 'With the previous sound system, the balcony was looking at the top of the line array and didn't get any low end from the floor-mounted subs. It was a tough room to get proper coverage for. The new A15-KS21 combo fixed that immediately.'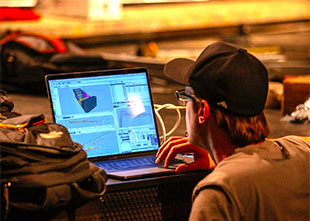 The A Series speakers were a good fit in other ways besides performance and flexible pattern control. Beaty points out that the nearly 80-year-old Wink Theatre is constructed like many venues of its time, with a narrow footprint and many tightly turning staircases…
'It was impossible to get a modern lift in there, and the ceiling isn't structured, so the reduced weight and compact form factor of the A Series literally allowed us to get it in and get it hung in an older venue like this,' he says.
The Wink Theatre installation, whose design used Soundvision modelling software, also made use of the new M1 suite, a comprehensive set of measurement tools from L-Acoustics. 'We were able to measure the performance of all of the A15 speaker systems in one venue and create a consistent contour that we applied to all of the church's locations,' says Beaty. 'We were able to make them sound as identical to each other as humanly possible.'
Boreing agrees, saying it's great to have such sonic consistency across so many of the church's venues. 'The A Series sounds amazing in every place we have it,' he says. 'Each church location strives to deliver a consistent message and having L-Acoustics in most of our venues helps communicate that.'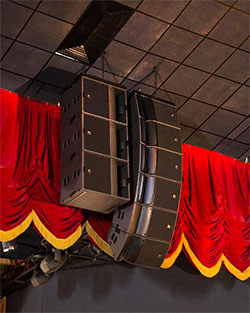 One of the major benefits of the M1 platform is that it is a force multiplier. With even a single microphone, users can measure all relevant systems at multiple locations in the room, then make timing and EQ choices that are best for the room average, all while being able to see the effect of any move on any location individually, or as an average. The ability to analyse data like this is pivotal in creating consistency not only in the measured room but also from venue to venue for consistency and homogeneity.
With the combination of A15 Wide and Focus and the flown subs, Boreing says coverage is complete, and the sound quality is excellent. 'Now that the pandemic restrictions have finally been relaxed a bit on worship services, everyone is really enjoying the new sound at the Wink Theatre, which is better than ever. Intelligibility is fantastic, and the music has a real impact, like a concert; it's a wonderful experience.'
The Chatsworth campus was Rock Bridge's first location to adopt an L-Acoustics PA – an ARCS WiFo system, and precursor to the current A Series – installed in 2016. This summer, the church's Wink Theatre site installed an LR sound system comprising six A15 per side – five Focus over one Wide. The A15 are flanked by two adjacent hangs of three KS21 subs per side, and two A10 speakers per hang are placed left and right as delay arrays for the balcony. Only a block away, Stage 123, Wink Theatre's sibling venue, also recently had a left-right system of three A10 per side and two centre-hung KS21 subs installed, while the Ringgold and Calhoun campuses similarly now have A15-based systems. The PA at each of these five locations is powered by L-Acoustics LA4X amplified controllers.
More: www.skylarkav.com