Premium outdoor lifestyle brand Yeti Inc recently opened a 4,900sq-ft store in the Wicker Park area of Chicago that is far from the usual retail space. To ensure a unique space, Yeti contacted The Werd Company as it had previously installed A/V systems for Yeti in other locations.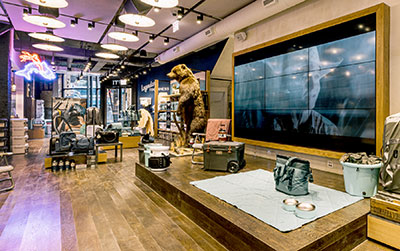 'We enjoyed the challenge to create an audio system for the retail space that could transform into a performing space,' says Werd Chief of Operations, Drew Dunavan. 'We had to remind ourselves that it's not a regular venue.'
Created in 2006 by brothers Ryan and Roy Seiders, Yeti's goal is 'to bring an outdoor experience into the city and inspire adventures in the wild'. The company hold a strong vision of the customer experience for the brand – from its daily operations through to special events designed to give back to the community. With major success at their Austin flagship location, Yeti opened locations in Charleston, Dallas, and Chicago. Not only does each store display high-quality products, but also features a bar and stage where weekly live performances, screenings, and events were held for the community – pre-Covid-19.
To handle the audio of the Chicago space, a Symetrix Prism 8x8 DSP is used manage all audio routing and signal processing for the store including the input processing, signal mixing and routing, and output processing. The open architecture DSP combines cost-effective processing with the flexibility of the Dante network that allows the fastest possible way to implement, control, and maintain the system.
'The Dante capabilities of the Prism 8x8 are what we were looking for,' Dunavan says. 'It allows us to bring in event-production design and control because these retail stores are not venues, so they're not acoustically treated for performance. The key was to have the capabilities to get in there and tune systems based on the desired outcome.'
The Dante connectivity of the Symetrix Prism allows simple Dante mic solutions for performers and MCs on stage and the ability to route digital audio over the Dante network directly to amplifiers and output devices.
Despite many moving pieces involved in this project, The Werd Company was able to design, integrate, and install a state-of-the-art audiovisual system for Yeti Chicago while providing continued maintenance and support through remote A/V management and staffing for any live events. 'We really like the performance of Symetrix, and we've been implementing them in our upcoming installs,' Dunavan says. 'A/V is becoming more a part of function and design, and Symetrix is giving us the opportunity to really dial some great things in for our clients.'