'Recording an album can be a fun challenge at the best of times, but when Covid-19 slowed our progress to a crawl, we knew we had to find a different approach to the recording process.'
Jake Jones, producer on Canadian band, Twin Flames' third album describes that process…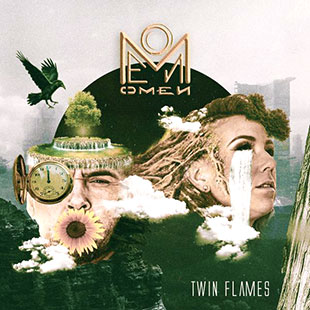 Having already had to postpone much of their tour, husband and wife duo, Jaaji and Chelsey June, were determined not to be beaten by circumstances and decided together with Jones that they would try recording the vocals for the album at the Twin Flames' home music room, with Jones overseeing proceedings from his home studio – and Audient's iD44 audio interface playing an essential part in getting the project over the finish line. On sale last week, the aptly named Omen was due for release in April. Most of the instruments had already been recorded in the studio by late 2019, but as lockdown was announced the vocal tracks were still outstanding.
First, Jaaji sacrificed a walk-in closet at his home to create 'a fabulous dead room for a vocal booth', using insulation covered in hessian (burlap) for soundproofing. Meanwhile, Jones got to work researching the gear.
'I wanted to recommend equipment that would be appropriate for our needs, but also give options for the future of home recording for them as well,' he says, drawing on his extensive experience as an instructor at the Technical Audio Recording Academy in Ottawa. 'When we needed to move to a remote recording solution, I didn't want to compromise on quality. We needed console grade preamps, excellent conversion quality, DI inputs and two headphone amps. The Audient iD44 delivered everything we needed and more.
'I've worked with Audient equipment and consoles before and I've always been impressed with the experience and the results,' he adds. 'This was no exception. It was a simple choice and the iD44 is a fantastically designed centrepiece for the remote recording solution.'
Jaaji is pleased to report that it went really well. So well in fact, that they 'ended up accidentally writing a whole new song' using iD44. 'We needed a song for the album that was more acoustic – more the kind of thing our fans are used to. 'Who I Am' was all tracked from home with the Audient, under Jones' direction.'
Chelsey and Jaaji have been able to use the iD44 to play online shows while not being able to leave the house during the lockdown period. 'We used the iD44 as an interface from our mixer board to either Zoom, YouTube Studio or Facebook through OBS. It worked really well for that too.'
With the album now out, Jaaji explains that almost of all vocals and all of the traditional spirit flutes (played by Chelsey) were recorded using the Audient interface. 'All in all, we are really impressed with the quality of the iD44 and our future will definitely be easier with pre-production and songwriting.'