The oldest scientific academy in continuous existence and home to over 1,600 of the world's most revered scientists, The Royal Society aims to 'recognise, promote and support excellence in the field of science'. Regular meetings of Council members and important committee discussions take place at Carlton House in London, the society's HQ where space within the building is also available to external clients. So, when the need came for an audio upgrade The Royal Society selected Shure Microflex Advance MXA910 (MXA) and Microflex Complete Wireless (MXCW).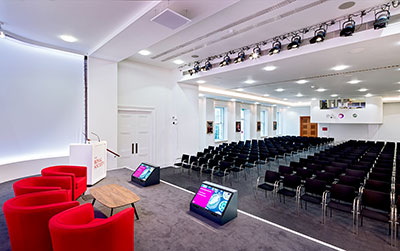 Three rooms were chosen for the upgrade, with the MXCW system installed in the Council room and the MXA910 system within the conference/boardroom and the main 300-seat lecture theatre, the Welcome Trust Lecture Hall.
Overseeing the project, The Royal Society A/V Services Manager Liam Helm explains what was initially required: 'The MXCW system was primarily for audio capture in the Council room, particularly when remote participants join by VC or phone. It has a fixed oval table and had previously used fixed microphones for Voice Lift to help with members who needed assisted hearing. The MXCW replaced the older system, with a view to using the system in other rooms if necessary.
'The roving system fulfils a need where we often have external clients requesting push-to-talk microphones; we frequently hired them in, so having our own made sense. This was sometimes just because the client wanted them, but also we'd hire in to be able to record boardroom-style meetings – most of the mics/PA in these spaces are configured for theatre style scenarios, though as they are flexible in layout they were often used for boardroom/cabaret as well – and we hired them quite often when we had boardroom style events requiring simultaneous translation.
'For the conference room an MXA910 is installed, set to a number of pre-sets to capture audio around different boardroom set-ups which feeds a NUC PC endpoint running Teams/Zoom, albeit in a room that's not your typical VC enabled room. It has performed really well, particularly in a round of committees that meet annually to elect the current year's Fellows. They meet in two rounds, and as Covid was gathering pace it really proved its worth as an increasing number of committee members could not travel and joined via video conferencing.
'The other MXA910 is in our main 300-seat lecture theatre. My hope here is to use it for voice reinforcement in chat show and coffee-table-style panel discussions, as an alternative to putting lavier microphones on participants, especially when faced with back-to-back panel sessions and little time to swap mics in the middle of a session.'
Being based in a listed building can bring its own set of challenges with any installation project, and the Royal Society is no exception: 'Unfortunately, when running cables to the floorboxes our Facilities team alerted us to the presence of asbestos,' Helm says. 'It was some way below and not a great threat, but nonetheless I halted the project and we eventually had an asbestos contractor pull the cables under instruction from the integrator, resulting in a delay of around ten days.
'The fact that the MXA910 requires one Cat6 cable for signal and control was a big plus – it required drilling a single hole in the ceiling. I had concerns about the appearance in an otherwise quite antiquated environment, but the lighting in the Conference room consists of a number of rectangular units containing four light fittings, suspended on four steel cables.
'I figured if the tile was similarly hung from cables at the same height as the lights, it would blend in as well as could be expected and not interfere with the throw from the projector. This resulted in it hanging at the optimum height for coverage of the largest boardroom set-up, so all in all it was a great success.'
With the installation completed just before lockdown and the subsequent closure of the building, there was a limited amount of time to use the systems. However, what little time Helm had still made a big impression, with every indication both projects had been very successful indeed, helped by support and advice from the team at Shure.
'We demo'd the MXA in situ before installing in the Conference room and Shure's advice and support has always been exceptional. What the MXA and MXCW systems bring to the table is incredibly useful to me and my team and we look forward to using them again when we return to the building.'
More: www.shure.com