In September 1999, International House of Prayer of Kansas City (IHOPKC) founder Mike Bickle and 20 full-time 'intercessory missionaries' began a prayer meeting that remains in progress.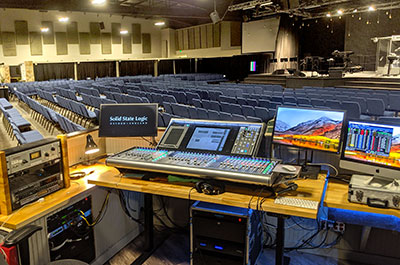 To deliver non-stop music and prayer to worshippers and stream to the internet, the church has installed two Solid State Logic Live series digital mixing consoles in its Global Prayer Room. A few miles away, in Grandview, Missouri, another pair of SSL Live desks handle house and stage sound, as well as webstreaming, at IHOPKC's Forerunner Church.
A pair of SSL Live L200 consoles – one at FOH and the second at the monitor position – were installed at the Forerunner Church first. 'We were definitely due for an audio upgrade, so we did a big fundraiser and got a nice sized budget and started demoing different consoles,' says IHOPKC Director of Sound Nicholas Kramer, who has been on staff for around eight years. 'We had a team of advisors talking about what options were out there and what we needed. Sound quality was a very high priority. We demoed a few different consoles and the SSL just smoked them.
'We had about two weeks with each console, so I was able to get intimate with them. Obviously, there are pros and cons with all of them, but in terms of sonic quality, the SSL was just leap and bounds ahead. As far as the sonic "picture", the SSL Live was just a little bit wider, a little bit taller and a little bit deeper, and more transparent. Plus, you could just do a lot more with the console.'
The church's engineers agreed, he says, 'So we bit the bullet and went with SSL.'
A few months later, the church also installed an SSL Live L300 at FOH, with an L100 for monitors at IHOPKC's Global Prayer Room (GPR). 'And we've been extremely happy ever since,' says Kramer.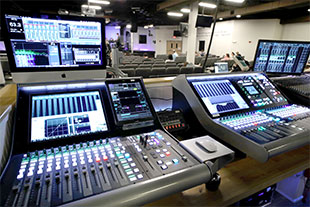 At the Forerunner Church location, the FOH and monitor desks interface via SSL Net I/O BLII Bridge units over a Dante network, with the monitor desk controlling gainstaging from the stagebox. But at the GPR, which operates 24 hours a day, seven days a week, the main stage snake is split five ways. 'Three of those splits go to FOH, one for the L300 and one for an analogue console, and one for the L100,' Kramer says. 'The two front-of-house consoles are in parallel.' The two SSL Live consoles receive stage inputs over Madi.'
The remaining splits go to the broadcast centre, where the night-and-day prayer and worship, now in its twenty-first year of continuous operation, is streamed to hundreds of thousands of people worldwide each year. The GPR webstreams to a dedicated platform, says Kramer, but weekly services are also streamed live from Forerunner Church. IHOPKC reports that 215 nations access its online resources through more than 1m website visits annually.
There is currently no interconnectivity between the two locations. 'But we might move to a full Dante network,' Kramer suggests. 'We already have a dedicated fibre run that connects all of our buildings. We also record at both locations – we have Madi outputs and we were recording into Waves Tracks Live, but we've changed to Reaper now. We import into Pro Tools for postproduction.'
In the GPR, the L300 serves a JBL VTX line array, while in the larger Forerunner Church sanctuary there is a stereo Meyer Sound point-and-shoot box system. 'The system sounds incredible, so we're spoiled there; it's a top-of-the-line PA,' Kramer reports. 'We're using Sennheiser for our in-ear monitor packs and we're using Shure wireless for handheld mics.'
In all, there are approximately 60 inputs from stage at both locations.
For outboard processing, Kramer uses a Teletronix LA-2A leveling amplifier on the preacher. 'He has some voice issues, so we've spent a lot of money making him comfortable when he talks, and he loves it,' Kramer explains. 'For everything else we've got a SoundGrid Server and a full bundle of plug-ins to sauce up the band.'
But whenever possible, he says, 'I try to do as much processing as I can on the console. All my de-essing is on the console and I'm using the SSL Stereo Bus Compressors on all my buses. I A/B'd it with the SSL plug-in and it smokes it, in my opinion. There are definitely different characteristics, but the onboard Bus Compressor sounds bigger when it stays in the console. I have a separate master bus with separate processing for if we're live on our broadcast webstream, but that's the extent of any output complications.'
Between them, IHOPKC and Forerunner Church employ in excesso of 1,000 staff, and there is a similar number of students at the IHOP University, which encompasses the Forerunner School of Ministry, Forerunner Music Academy and Forerunner Media Institute. Staff and students expect to spend at least 25 hours a week in the prayer room.
In the GPR, says Kramer, 'Each 24-hour period is divided into 12 two-hour prayer sessions, each led by a full worship team. Basically, there's a band for every two-hour block; they call them sets. We elect 14 fulltime worship teams and they'll take about six sets a week. So there is literally live music for 24 hours a day, seven days a week.'