Joining forces to 'focus on building industry capabilities during the Covid-19 pandemic pause', Clair Global has announced the acquisition of Eighth Day Sound Systems Inc to support the dedicated relationships for touring customers from both company's rosters.
Prior to the industry slowdown, Eighth Dav President Tom Arko and Clair Global owner Troy Clair had discussed how this union could improve and strengthen future tour support. Eighth Day Sound will also complement the installation division of Clair Global.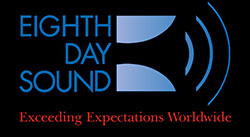 'First and foremost, our hearts and thoughts are with our colleagues and families affected by this sudden work stoppage worldwide,' said Troy Clair and Tom Arko in a joint statement. 'While the impact is huge, we encourage all to stay healthy and focus on the future. We'll get through this and return to work when we can safely gather again for production events.'
The two family-owned companies share the common aim of providing systems to clients large and small, supported by a passion the events industry – and now by combining their strengths and synergies. In addition to technical expertise from top-tier professionals and crews, the alliance will offer a wide range of line premier brands, amplified availability from the more extensive audio equipment base, and flexibility from the imcreased global presence. The two companies will continue established relationships with manufacturers.
The acquisition, previously scheduled to close early April, was delayed because of the pandemic's worldwide impact on the industry. Both companies worked diligently to reconstruct a deal because of their mutual respect, shared commitment, and collective recognition of the future's huge potential.
'It was a good idea then, and an even better idea now,' Arko says. 'By using this available time, we'll emerge prepared with all the needed resources to serve a global customer base effectively. We see it as one world, one focus, and one company, and perhaps more importantly, the union 'keeps it in the family,' with both companies entirely family-owned and operated. Because of our respected mutual values, I have no doubt the passion for audio will continue in this new venture and become a better solution to meet the needs of the industry ahead.'
'No one can predict the future, but we believe in the future of live events,' Clair adds. 'Once it is safe, we fully expect there to be an even greater demand for live entertainment, and we will be prepared to serve that demand. We are excited to strengthen our team and grow our family.'
The Eighth Day Sound brand will be maintained and will conduct business as it has for the past 40 years, under the same management and with the same staff. The company will become a stand-alone brand under the Clair Global umbrella, joining Britannia Row Productions in the UK, JPJ in Australia, and AudioRent Clair in Switzerland.