NYC-based Malvicino Designs Group (MDG) has completed work on the new Paradise Island Studio facility in Nukutepipi, French Polynesia, which is home to Cirque du Soleil creator Guy Laliberte's private compound including the recording studio. On completion, the first artist to write and record in the new space was U2's Bono.
The facility is equipped with an Avid S6 console, Neve, API, SSL, UA and Shadow Hills outboard gear; ATC monitors, an Aviom headphone system, along with an extensive collection of analogue synthesisers. Sommer Cable's MC-Mistral analogue/digital combo cable was used throughout the build.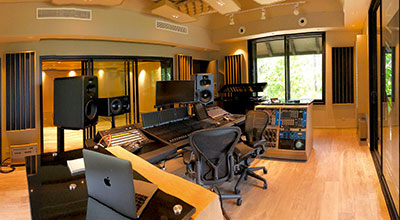 In addition to the studio itself, artists are able to record from all over the island, including a 50ft-high observation tower. All recording locations are connected to the studio control room through Sommer Cable via Dante. The design team overcame many challenges due to the remoteness of the location, and in preparation for the buildout assembled the entire studio in the US to verify that all gear was in top working order before shipping materials.
The team comprisedGuy Laliberte and his technology advisor Steve Cloutier; Eric Lynn of Infinite Studio Solutions; Horacio Malvicino and Fabiola Mena of Malvicino Design Group; and architect Richard Dulude. Equipment was provided by Stephen Bannister of Westlake Pro.
Eric Lynn was the chief facilitator and person in charge of the project. He is a studio and workflow designer best known for his role as Director of Operations at Rick Rubin's Shangri La Studios since 2008. His background as an artist, performer, producer, and engineer lends a unique perspective that he draws from when designing highly custom studios.
The MDG specialises in recording studio architecture, custom acoustics and manufacture of audio products, and has wired, integrated and commissioned upwards of 500 studios to date.
Because of the cable's accurate and precise capacitance, high transmission quality is assured over long distances. The wire pairs of Sommer's Mistral cable have a pre-twisted drain wire and another shielding made from AL/PT compound foil. For added protection against corrosion and oxidation, both the conductors and the drain wire are tinned. The returns on the cable splices are easily recognisable by the colour-coding on the conductor pairs.
'This studio is unique and simply astounding, with great attention to detail and especially durability,' Malvicino says. 'And it's clear that Sommer Cable was a great choice for this new studio.'
'The company's dedication to the client is thorough and everything's easy to order online,' he adds. 'We're sourcing everything from them, including connectors and peripherals. The quality of their craftsmanship is brilliant.'