The Selwyn Outreach Center in Peterborough, Ontario, is among the venues taking advantage of the coronavirus lockdown restictions to upgrade it sound systems. Che church has now completed the installation of a DiGiCo S31 mixing console, along with a Klang:fabrik immersive in-ear system and Klang:quelle headphone amplifiers, purchased through DiGiCo's Canadian distributor, GerrAudio.
The church called in Production Service Industries lead installation advisor Jason Reynolds to design and supply a capable, yet cost-effective front-end package for the upgrade. Anchoring the system is a DiGiCo S31 at FOH that is equipped with three of DiGiCo's new A168 stage racks.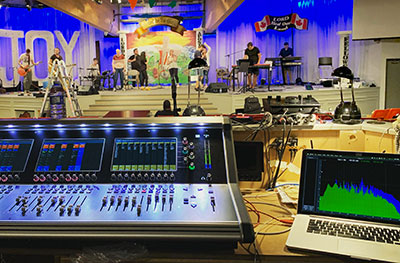 'The S31 is a very user-friendly console that is packed with features not found on other consoles in the same price bracket,' Reynolds says. 'That value, coupled with the flexibility offered by the new A168 racks, made it an easy decision for the group of volunteer audio technicians at the centre.'
Three A168 racks are deployed in various locations around the stage via Cat5 cabling, providing 64 physical input sockets. 'The fact that everything is running at 96kHz was a huge bonus,' Reynolds adds.
'The S31 is perfect for our space,' adds James McRury, lead audio technician at the facility. 'Its three touchscreens make it very easy to operate; I can see everything I want to see at a glance, and then easily dive down into a feature-set with a few simple touches. I love the workflow and the flexibility allows each of our audio techs to personalize the console based on who is running the board that day.'
For stage monitoring, the Klang:fabrik system is fed from FOH.
'The Klang unit provides the technicians and musicians ultimate flexibility in addition to immersive mixing capabilities and superior audio quality – the audio techs loved the seamless integration with the S31 and the musicians found it very easy and intuitive to use,' Reynolds says. 'The musicians immediately noticed the space that Klang brings to their individual mixes.'
The Klang:fabrik is providing up to eight immersive stereo mixes via multiple Klang:quelle headphone amplifiers.
For the most important source on stage, the Pastor, Reynolds recommended a DPA d:fine directional headset microphone to wear during weekly services.
'The installation and performance of the system has been flawless' concludes Reynolds. 'Everything went together seamlessly, and the congregation is very pleased with the final result so far. I've worked with DiGiCo, Klang and DPA many times in the past and nothing beats the combination, it's my go-to solution.'
Selwyn Outreach Centre is holding a limited number of socially distance services, with the congregation enjoying the benefits of the new system and continues to broadcast over FM for those not able to attend in person.