Renkus-Heinz has appointed Moscow-based Hi-Tech Media as its distributor for Russia.
Hi-Tech Media offers all stages of A/V system support and installation including consultation and long-term service. The company's expertise aligns with Renkus-Heinz' key markets, and includes work in education, governmental, corporate, performing arts and sports facilities.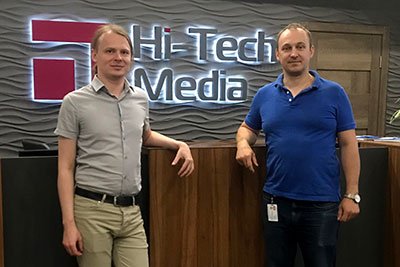 'Renkus-Heinz has a mission to empower our customers with perfectly positioned audio across the globe,' says Renkus-Hein, European Technical Sales Manager, Michal Poplawski. 'By partnering with Hi-Tech Media, we are further enabling that mission while also working with one of the most knowledgeable and committed teams in the region. That includes Russia, as well as Belarus and Kazakhstan where Hi-Tech Media has its satellite operations.'
'Renkus-Heinz is a recognised leader in high-tech solutions and their systems are renowned for working in challenging spaces, both acoustically and aesthetically,' says Hi-Tech Media Brand Manager for Audio Systems, Pavel Shemyakin. 'The systems are trusted by global corporations, governments, large hotel chains, sports arenas, world-renowned theatres and religious institutions. With Renkus-Heinz technologies, we can now offer loudspeaker systems to those areas where it is really needed, minimising spurious reflections and improving audio performance and visual aspects.'
Renkus-Heinz joinse Shure, Yamaha, Biamp Systems, Bosch and Extron among others in the Hi_Tech portfolio.
'We're thrilled to be working with the Hi-Tech Media team,' adds Renkus-Heinz President, Matt Czyzewski. 'This is a partnership that couples world class products and solutions with a world class A/V team. We look forward to the outcomes of adding high quality sound to more locations across Russia.'