Recognising the value of a well-designed sound reinforcement system in church service, Taylor Church in Jacksonville, Florida, recently upgraded its sanctuary with a new DAS Audio loudspeaker system from full service audio/video design/build firm BDH Technical Systems.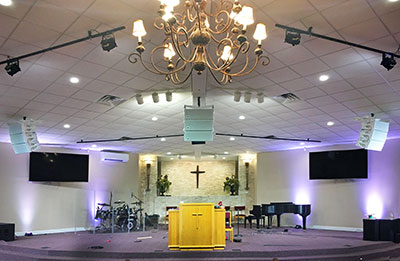 Working in close cooperation with business partner and authorised DAS Audio dealer Invisible Audio, BDH Technical Systems designed the new system using DAS Event208-AW three-way powered line array enclosures mated with DAS Event218-A sub bass enclosures.
'Taylor Church offers a unique blend of both contemporary and traditional worship,' explains Craig Bruce, a partner at BDH Technical Systems who also serves as the company's primary system designer. 'For the most part, services are contemporary and include the use of a sizeable praise band that is supported by an eight-member vocal team. The sanctuary itself has a good sized stage area facing the congregation, which is accommodated by fixed seating.
'The new sound system setup encompasses three line array clusters for a total of nine DAS Event208-AW loudspeakers, flown in an LCR configuration at a height of 14ft, with each hang comprised of three boxes. For low frequency support, these three clusters are augmented by a pair of Event218-A powered subwoofers, which are positioned on stage at the left and right sides.
'Given the very limited height we had to work with, we needed a compact, full range loudspeaker enclosure that could deliver the required SPL,' he continues. 'The sanctuary is quite wide, so we realised early on that a center hang would be required. We liked the self-powered nature of the Event208-AW, as there was no space for a separate amp room. I was quite impressed with the overall sound quality of the Event208-AW's compact form factor. The gain before feedback with a lapel microphone on the pastor is like night and day compared to the previous system, so the pastor can now walkout into the room and sound close to the congregation.'
Taylor Church's new sound reinforcement system was installed during June 2020 and went into service immediately afterward. 'This was a rewarding project for everyone involved,' Bruce reports. 'Pastor Mark Woods has been very complimentary of the system's high level of speech intelligibility and its full, rich sound for music reproduction–with the result being that the congregation is more engaged than previously.
'I'd also like to take this opportunity to thank Andrew Douglas at Invisible Audio for helping us secure the equipment, along with Lead Audio Tech Phillip Allison and the Jacksonville local union install crew from IATSE Stagehands Union Local 115. Together, we had an incredible group of people come together and create a sound system that is without parallel in this area. DAS was also a solid partner every step of the way on this project. The sales team even drove a demo rig up from Miami to the church for the client to audition. That's a level of customer support we don't see very often.'