Having grown considerably from its living-room-based Bible-Study roots of the early 1980s, the Love Joy Church in Buffalo, New York, now occupies a 600-capacity sanctuary in Lancaster, a suburb of Buffalo. Love Joy's upbeat services and praise band are the heart of its diverse ministerial activities. However, until recently, congregants regularly complained that speech and lyrics were difficult or impossible to understand.
Local AV design and integration firm TSH Audio has now resolved the problem with an installation of Danley Sound Labs loudspeakers and subwoofers.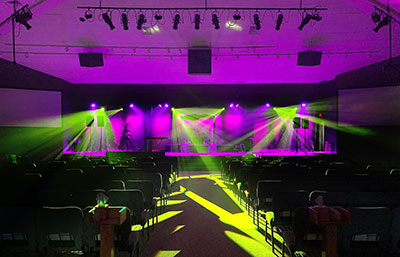 'The existing sound system at Love Joy Church was dated and the design didn't work for the space from the start,' explains TSH AV Principal and design engineer, Timothy Harris. 'The coverage was minimal, and there were a lot of boxes at the front of the stage to compensate, but as often happens, more was less. Many people couldn't hear the message, and if they turned the system louder, other people complained that it was painful.'
It was a year into running TSH AV that Harris discovered how effective a Danley design could be: 'Sure, line arrays don't always fit the bill, but there's also the pure and simple sound quality of a Danley point-source system,' he says. 'Tom Danley's designs are amazing – multiple drivers combine to produce volume, but all of the frequencies leave the horn perfectly in phase. Beyond the designs, the people at Danley, and the principles they run their business by, are fantastic. It's a very open and warm company. Skip [Welch] is always there to provide a demo or to help out with logistics.'
Harris modelled Love Joy's rectangular sanctuary using Danley software. 'Danley Direct allowed me to identify any potential overlaps or phasing issues,' he says. 'Love Joy's situation was pretty straightforward, however. They mainly needed clean, point-source audio to every seat for intelligibility of vocals and spoken word. For most churches, that's the biggest deal. The model also gave the decision-makers at Love Joy peace of mind because it allowed them to visualise the changes we were proposing.'
The new system centres on a stereo set-up of four Danley SH50s. Two SH50s are close-packed on each side, delivering 100° of audio with phase-coherent audio from one side to the other and zero seam in the middle. A BC412 subwoofer hangs between the SH50s to deliver soul-stirring low end. A new Allen & Heath SQ-6 digital mixer completes the system, connects via Dante to a QSC Q-Sys Core 110, and to two QSC CXD-series four-channel amplifiers – one amp for the tops and the other for the subs. Acoustical Fulfillment diffusers and absorbers round out the sanctuary sound reinforcement system.
In addition, TSH AV upgraded Love Joy's video and lighting systems. Two new 6500-lumen Sony laser projectors fire on Strong/MDI screens. Black Magic switching technology and Pro Presenter give its video production a professional polish. A Jands lighting console combines with Chauvet lighting to do the same for the stage lighting. Finally, QSC ceiling speakers and amplification provide distributed audio in the bathrooms and hallways.
'The improvement over their old system is night and day,' Harris says. 'They can run the Danleys significantly louder because their lack of distortion allows it, so they have more musical impact and everyone can understand every spoken word and every lyric.'
This autumn, TSH Audio will also install a stereo pair of SM60F full-range loudspeakers and a THmini15 subwoofer in Love Joy Church's children's wing, bringing the same intelligibility and impact delivered by the sanctuary system.